N.M. police officer dies a day after being shot during pursuit
Officer Anthony Ferguson had been with the Alamogordo Police Department for 11 years
Duty Death: Anthony Ferguson - [Alamogordo, New Mexico]
End of Service: 07/16/2023
---
By Sarah Roebuck
Police1
ALAMOGORDO, N.M. — An officer with the Alamogordo Police Department died from injuries he sustained from a shooting, KFOX reports. 
Officer Anthony Ferguson was shot in the face during a pursuit early Saturday morning. He died from his injuries at the hospital on Sunday.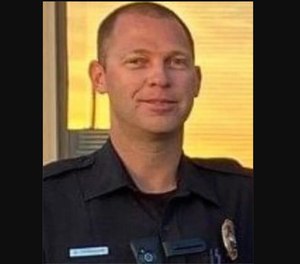 Ferguson had been with the department for 11 years. He was 41 years old. He is survived by his mother, father, four brothers, his daughter and son. 
Police said on Saturday just after 2 a.m., officers attempted to stop a Honda, driven by Dominic De La O, for driving without headlights or tail lights. The suspect did not stop and fled the scene.
The suspect crashed into a light pole that was less than one mile from the initial traffic stop. He then tried to run from the crash scene, leading officers to continue the pursuit on foot. 
During the pursuit, De La O pulled out a shotgun and fired toward Ferguson, shooting him in the face.
Another officer shot De La O in the leg. He remains in custody on multiple charges.