Pa. State Police: Barracks attack that killed 1 trooper, wounded another eerily similar to 2014 ambush
Trooper Jacques Rougeau Jr. was shot and killed by a bullet that went through his patrol vehicle's windshield during an ambush; another trooper was wounded
Duty Death: Jacques Rougeau Jr. - [Lewistown, Pennsylvania]
End of Service: 06/17/2023
---
By Joseph Kohut
The Times-Tribune, Scranton, Pa.
LEWISTOWN, Pa. — Col. Christopher L. Paris, commissioner of the Pennsylvania State Police, started Saturday preparing for a briefing on the collapse of Interstate 95 in Philadelphia.
By the end, he was at Hershey Medical Center as the helicopter transporting a trooper struck by gunfire landed.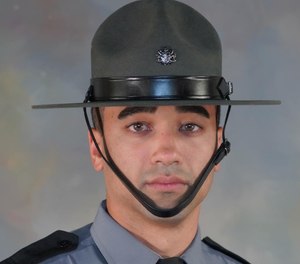 Paris, the former commander of the Blooming Grove state police barracks, is familiar with ambushes on state police. Nearly nine years ago, a deadly sniper attack at the Pike County barracks left one trooper dead and another wounded.
"This is not the first time one of our installations was attacked," Paris said during a news conference last weekend. "And yet our people do an admirable job running and driving to the gunfire."
Three days after state police said Brandon Stine shot and killed Trooper Jacques Rougeau Jr., 29 and wounded Lt. James Wagner, 45, investigators have yet to identify a motive in Saturday's attack, Paris said.
Stine, 38, of Thompsontown, drove his truck to the Lewistown barracks in Juniata County shortly before noon Saturday and shot at marked patrol cars.
Stine fled. A manhunt ensued.
The circumstances were similar in 2014, when a manhunt ensued to locate Eric Matthew Frein after he opened fire on the Blooming Grove barracks.
During Saturday's search, state police said Stine shot Wagner and critically wounded him in Mifflintown.
Rougeau was shot and killed by a bullet that went through his patrol vehicle's windshield during an "ambush" in Walker Twp., Lt. Col. George Bivens said Saturday.
Stine was shot and killed during an intense gunbattle with state police.
Wagner remained in critical condition Tuesday, Paris said.
"Pennsylvania has lost one hero while another fights for his life," said David Kennedy, president of the Pennsylvania State Troopers Association, in a statement. "The bravery of these troopers and their loved ones will stay in our hearts forever."
Paris said Tuesday that the attack was "certainly similar" to the ambush at the Blooming Grove barracks.
On Sept., 12, 2014, Paris, then a lieutenant, was the officer-in-command of the Pike County installation and was asleep for about a half-hour at his Dunmore home when an 11:19 p.m. phone call woke him.
Something "bad" had happened at "the Grove," came the report on the other end of the call.
Frein, of Canadensis in Monroe County, used a .308-caliber rifle to open fire at the barracks from across the street.
Cpl. Bryon K. Dickson II, 38, of Dunmore, died at the scene.
Trooper Alex T. Douglass, now 40, of Olyphant, fell wounded.
Frein, now 40, was captured without further bloodshed after hiding in the Poconos' dense state forest. The manhunt for him lasted 48 days.
Nearly a year after the shooting, Paris was promoted to captain and oversaw Troop R, which covers much of Northeast Pennsylvania. He continued to rise through the ranks and was nominated earlier this year by Gov. Josh Shapiro to lead the agency.
Paris said the "commitment of our people to really rise to the occasion" he witnessed following Saturday's violence mirrored the tenacity with which they pursued Frein.
Frein sits on death row at State Correctional Institution — Phoenix in Skippack Twp. A jury found him guilty in April 2017, on all 12 charges in his 16-day capital murder trial.
Stine did not surrender quietly.
"I'm always worried about our people," Paris said "It's a constant worry. I know the work they do every day. Every domestic we respond to, every crime we investigate."
___
(c)2023 The Times-Tribune (Scranton, Pa.)
Visit The Times-Tribune (Scranton, Pa.) at thetimes-tribune.com
Distributed by Tribune Content Agency, LLC.
McClatchy-Tribune News Service