Tenn. deputy dies of gunshot wound suffered while responding to call
"I want make it clear that Officer Blakely is a hero. He lived as a hero and he died a hero," Sheriff Tom Spangler said
Duty Death: Tucker Blakely - [Knoxville, Tennessee]
End of Service: 10/02/2023
---
By Joanna Putman
Police1
KNOXVILLE, Tenn. — A Knox County deputy died Monday after succumbing to gunshot wounds he received while responding to a domestic incident over the weekend, WATE News reported.
Knox County Sheriff Tom Spangler announced that 29-year-old Deputy Tucker Blakely was responding to reports of an armed man in a home. Deputies encountered the man, identified as Matthew Logan Rose, and exchanged gunfire with him, according to the report. The suspect was shot and pronounced dead on the scene.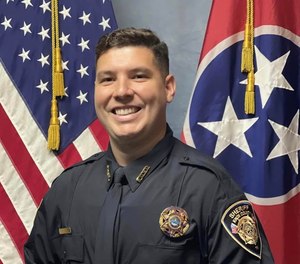 Blakely was transported to a hospital, where he later succumbed to his wounds. 
"Our law enforcement officers risk their lives every time they put on the uniform and we are grateful for that every day. We will never forget their sacrifice. God bless the Knox County Sheriff's Department," U.S. Congressman Tim Burchett said in a statement.
According to the report, Blakely graduated from the Knox County Training Academy in 2021. He is survived by his wife and 5-year-old son.
"I want to make it clear that Officer Blakely is a hero. He lived as a hero and he died a hero," Spangler said.