Tenn. officer killed in on-duty crash
Cleveland Officer Justin Maples, 34, was a seven-year police veteran
Duty Death: Justin Maples - [Cleveland, Tennessee]
---
Chattanooga Times Free Press
CLEVELAND, Tenn. — The theft of a car from a Dollar General parking lot appears to have led to the death of a city police officer, authorities said.
Officer Justin Maples died in a single-vehicle crash Sunday evening, on his way to help a Bradley County officer pursuing a Jeep that had been reported stolen, Police Chief Wes Snyder said Monday.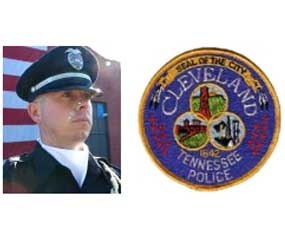 "As he was en route to that location, he lost control of his vehicle," Snyder said. "It skidded off the roadway and struck a utility pole."
The accident, which took place about 9:30 p.m. in the 1600 block of South Lee Highway, is being investigated by the Tennessee Highway Patrol. Questions such as how fast Maples was driving when the accident occurred and the road conditions will be answered by the investigation, authorities said.
In the case of the reported stolen Jeep, Ronnie Lee Market, 46, of Careyville, Tenn., was charged with three counts of reckless endangerment and one count each of theft over $1,000, evading arrest, possession of drugs and driving on a suspended license, authorities said. On Monday, his bond was set at $100,000 and his preliminary court hearing is set for May 31.
No charges will be filed against him in connection with Maples' death, authorities said.
Maples, 35, is survived by his wife, Danielle, and three young sons. Funeral arrangements were not complete Monday. He was an officer with Cleveland for seven years and served the department for several years in its honor guard.
He is the first Cleveland police officer killed in the line of duty since 1971, when Officer Kenneth Wright was shot.
"Justin was the kind of officer any chief would have been proud of," Snyder said. "On any given day he would prefer to be standing in the gap of what's good and what's evil."
According to sheriff's office spokesman Bob Gault, a woman shopping inside the Dollar General on Spring Place Road looked out the store's window and saw the headlights of her vehicle come on as it backed out of its parking space.
Officers spotted the Jeep on APD 40 and pursued it to near 25th and Keith streets. According to the police report, as officers attempted to stop the vehicle, it went off road at the greenway at Mouse Creek. The man inside fled on foot.
A short time later, officers spotted the man near the Tractor Supply store on Keith Street. Witnesses who were walking on the greenway at the time confirmed the man arrested was the same one they had seen, according to the report.
Maples was a third-shift member of the Cleveland Police Department's Fox Team, spokeswoman Officer Evie West said, and team members were the first responders to Maples' wreck.
"It is a very rough situation for the guys to try to handle," West said. "One of his best friends was there last night when I got on the scene. I asked him if he was OK. When I saw it, I broke down. He said, 'You know I have a job to do right now. When I'm finished I will have my time to grieve.'"
Members of Maples' family were not available for comment Monday. Snyder said he spoke Sunday night with the family.
"His father knew Justin was doing what he wanted to do," Snyder said. "His father, his family, understood his desire and supported him. Their loss is immeasurable."
Copyright 2012 Chattanooga Publishing Company