Texas deputy in viral tea party photo dies after completing tactical team qualifications
A cop who helped deliver a baby girl on the side of the road last year and later took a series of tea party photos with the toddler died Thursday
Duty Death: Mark Diebold - [Tarrant County, Texas]
End of Service: 09/07/2017
---
By Claire Z. Cardona
The Dallas Morning News
TARRANT COUNTY, Texas — A Tarrant County constable who helped deliver a baby girl on the side of the road last year died Thursday, officials said. 
Deputy Constable Mark Diebold had just finished tactical team qualifications Thursday morning when he collapsed, the Tarrant County Sheriff's Office said.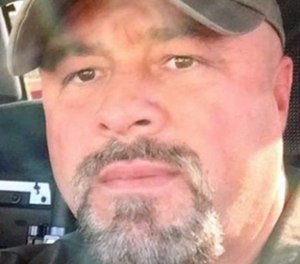 Members of the tactical team started CPR, and he was taken to Alliance Medical Center in Fort Worth, where he died. He was 48. 
His official cause of death has not been determined. Officials suspect a heart attack was the cause.
Diebold worked for the sheriff's office from 1994 to 2008 before transferring to the constable's office. 
Last July, Diebold was on his way to work when a vehicle sped past him. He turned on his lights and sirens to slow the driver down and pulled up at a light next to a couple. Caleb Hall explained that they were rushing to the hospital because his wife, Destiny, was in labor, KXAS-TV (NBC5) reported.
They drove to a nearby parking lot and less than a minute later, Diebold was helping deliver the Granbury couple's baby in the front seat of their SUV. 
"She started crying and we both were ecstatic, jumping, screaming, 'The baby's here,' " Diebold told the station. "It was a wonderful experience. It was one I'll never forget."
They remained close, and in July, Diebold, a muscular and tattooed man, sat down for a tea party photo shoot with Evelyn Hall, now a toddler. 
On Thursday, the couple recorded memorials to Diebold on Facebook Live. At a loss for words, Caleb Hall came up with a workout in his honor. Through tears, Destiny Hall described "Uncle Mark" as "the world's finest man" and a member of their family.
"Heaven just received the biggest angel. Thank you Mark for the kindness, compassion, courage and love you showed," Destiny Hall said in a Facebook post. "You did way more than help with Evelyn's delivery ... you brought a light into our life as well as countless of others. I will miss your daily corny jokes on FB and your big smile."
In a written statement, Tarrant County Sheriff Bill Waybourn said Diebold was "an amazing person, and his light will be missed."
"We are all one family. No matter what happens we have our brothers and sisters to rely on
for support," Waybourn said. "Not only to support each other, but to rise up and support Mark's family. They need us more now than ever."
Funeral arrangements are pending. Diebold is survived by his wife and children.
———
©2017 The Dallas Morning News
McClatchy-Tribune News Service