Baltimore Police: Misconduct complaints against officers dropped 40% in 2020
Officials say the sharp decline reflects a less confrontational approach and fewer interactions with the public during the pandemic
---
By Phillip Jackson
The Baltimore Sun
BALTIMORE — The number of citizen complaints against Baltimore Police officers and incidents of false arrests each dropped more than 40% last year, a sharp decline officials said reflects a smarter, less confrontational approach to enforcement and fewer interactions with the public during the ongoing pandemic.
Deputy Police Commissioner Danny Murphy gave the City Council a snapshot of the improvements on Wednesday, weeks after a federal judge overseeing police reform warned that the "warrior model" of policing in Baltimore must end, and that residents deserve to see positive results after years of efforts to rebuild the damaged and corrupt department.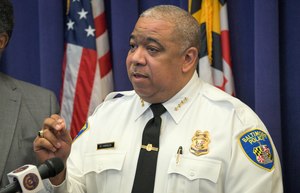 Murphy, in charge of the department's efforts to comply with a federal consent decree, told the council that the latest data shows clear progress in making the department more accountable to the public and better able to police themselves. Still, Murphy and Police Commissioner Michael Harrison acknowledged more needs to be done, with Harrison noting only slight improvements in the overwhelming number of homicides.
Murphy said the drop both in citizen complaints and cases referred by a Citizens Review Board reflect the department's determined effort to get rid of the aggressive approach that has long alienated residents, and is advancing its goal of making sure officers aren't "over addressing minor offenses."
In the past such tactics have damaged trust between the community and the law enforcement agency, the department and consent decree monitors agree. On Wednesday, Murphy reported that, in addition to complaints, incidents where officers used force dropped by about 25-percent.
He cautioned there are many variables contributing to the improved data.
"COVID obviously turned the world on its head in 2020. And so while we are seeing decreases in use of force for that year, we want to be very careful as we are working with the monitors and the DOJ as we are doing a use of force annual report, we will do our best to factor in how did COVID factor into these decreases in use of force," Murphy said.
The Department of Justice reached a consent decree with the city following the death of Freddie Gray and after widespread incidents of corrupt and criminal conduct by officers, particularly against members of minority communities.
U.S. District Judge James Bredar, who is overseeing the consent decree, has been pushing the department to improve its training and policies, and to upgrade technology to better monitor whether the department is really improving.
One area of concern for the department and DOJ monitors is use of force incidents, which have created deep distrust in the community and led to arrests of more than a dozen officers in recent years, by both federal and city prosecutors.
While a look at the report shows a sharp overall drop, a closer examination of the numbers appears to confirm that officers have at least slowed the practice of what Murphy called "over addressing of minor offenses."
The most serious category of force, level 3, which includes shootings and other violent confrontations remained "fairly consistent," Murphy said, down to 18 from 22 a year prior.
But the more routine interactions between officers and the public - which in the past have led to abuses captured on videotaped or criminal prosecutions of officers - appear to be resulting in less confrontation, according to the department's statistics.
Level 1 encounters, such as pointing a weapon, taking down a suspect or using a grip or technique that "causes temporary pain or disorientation," dropped about 22-percent last year, and the number of such encounters has declined from 1162 to 689 since 2018, the numbers show.
Use of force under all circumstances or levels has dropped 39-percent since 2018, from 1,525 incidents to 934 overall last year, according to department data.
Murphy said that trend shows that the department is going in the direction the "community wants" and is working toward meeting the requirements of the consent decree.
The department also reported a drop in incidences such as false arrests between the two years, noting a total of 64 allegations forwarded to the department by a Civilian Review Board last year, compared to 111 the board forwarded in 2019, according to department numbers.
Murphy said the department has changed some of the ways it monitors use of force in recent years, making exact comparisons difficult because of new policies and training methods, although the numbers are clearly trending in the right direction.
Baltimore City Councilman Mark Conway, representing the 4th district, asked whether the department sees addressing crime and implementing the consent decree as separate objectives.
Harrison said the two are not "mutually exclusive" and that solving and alleviating a rise and murders also plays a role in building trust in the community.
"While we did have decreases in all the crime categories, it was very modest in murder category and we need to really, really reduce that. It does require more of a comprehensive solution because that category is a crime of pre-meditation and a crime of passion," Harrison said.
"It is about building those relationships where we build the flow of that information from the community to the police and from the police to the community . . . " Harrison said. "I do not separate consent decree and process improvement from the ability to improve our crime fight."
(c)2021 The Baltimore Sun
McClatchy-Tribune News Service