Minn. police chief, officer who shot Daunte Wright both resign
"I believe it is in the best interest of the community, the department, and my fellow officers if I resign immediately," wrote Kimberly Potter
---
By Star Tribune staff
Star Tribune
BROOKLYN CENTER, Minn. — Brooklyn Center police Chief Tim Gannon and Kimberly Potter, the police officer who fatally shot Daunte Wright during a traffic stop Sunday, have both resigned from the department.
Mayor Mike Elliott announced the chief's resignation during a news conference at City Hall Tuesday afternoon.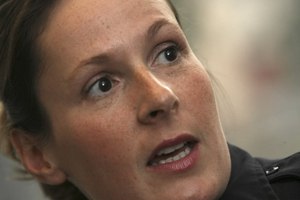 In a letter to city officials earlier in the day, Potter wrote that she was resigning effective immediately, according to a statement from Law Enforcement Labor Services, the state's largest public safety labor union.
"I have loved every minute of being a police officer and serving this community to the best of my ability," Potter wrote in a letter to Elliott, Gannon and acting City Manager Reggie Edwards, "but I believe it is in the best interest of the community, the department, and my fellow officers if I resign immediately."
Elliott told reporters Tuesday that city officials did not ask Potter to resign.
"That was a decision she made," he said.
Commander Tony Gruenig will serve as acting police chief. At the City Hall news conference, he said he'd just learned of the staffing change.
"It's very chaotic right now," he said. "We're just trying to wrap our heads around the situation and try to create some calm."
(c)2021 the Star Tribune (Minneapolis)
McClatchy-Tribune News Service