1 year, 1 day in prison for lawyer in NYPD police car firebombing
The man was also ordered to pay over $30K to the NYPD for the destroyed vehicle
---
By Associated Press 
NEW YORK — A lawyer who purchased gasoline that another lawyer used in firebombing an unoccupied New York City police car during protests over George Floyd's death in 2020 was sentenced Thursday to a year and a day in prison.
Colinford Mattis, appearing in federal court, was also ordered to pay just over $30,000 to the New York Police Department for the destroyed vehicle.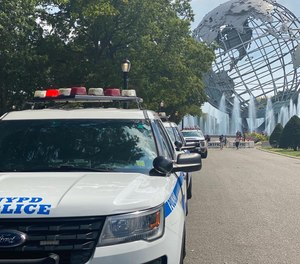 An attorney for Mattis declined to comment. Mattis is expected to start his sentence in March.
Mattis and Urooj Rahman were arrested May 30, 2020, as demonstrations and protests raged over the killing of Floyd at the hands of police in Minneapolis.
According to video footage, Rahman threw an incendiary device into the parked police vehicle, setting its console ablaze and causing severe damage.
Mattis was driving the minivan they were in when police arrested them, and authorities said they found a lighter, a Bud Light beer bottle filled with toilet paper and a gasoline tank in the back. They said Mattis bought the gasoline.
Initially, the two lawyers had faced much more severe charges and possible years-long prison sentences, but prosecutors reduced the charges and they pled guilty to conspiracy.
Federal authorities had asked for Mattis to be sentenced to between 18 to 24 months in prison.
Both Mattis and Rahman have been disbarred. Rahman was sentenced in November to 15 months in prison.
PREVIOUS: Lawyer gets 15 months behind bars for firebombing NYPD cruiser