2 deputies shot during child porn raid
Suspect opened fire as deputies arrived at an apartment near San Diego
---
Associated Press

LAKESIDE, Calif. — Two sheriff's deputies and a suspected child molester have been injured during a 15-minute shootout in suburban San Diego, authorities said.
Daniel Robert Witczak, 30, opened fire as a team of deputies arrived to investigate allegations of child abuse, the sheriff's department said in a statement.
Sgt. Craig Johnson and Detective Ali Perez were wounded in the exchange of gunfire Tuesday at an apartment in Lakeside, a semi-rural community east of San Diego. Sheriff Bill Gore declined to specify their injuries but said in the statement that the department was "hopeful and cautiously optimistic" about their recovery.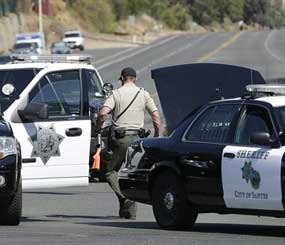 Witczak's girlfriend had alleged that she found pornographic pictures of her two daughters, ages 6 and 8, on his cellphone, according U-T San Diego.
The girlfriend met with investigators and called Witczak with detectives listening in to confront him about the photos. Witczak told her he was offered $50,000 to post the images on the Internet.
The woman, who was not identified by the newspaper to protect her children's identities, said she heard deputies arrive at the apartment while she was on the phone. She said she heard gunshots and someone say, "Officers down."
The woman told the newspaper that the boyfriend said he shot himself and she heard him surrender.
Sheriff's Capt. Duncan Fraser said investigators don't believe Witczak shot himself, and that Perez and Johnson were outside the door when Witczak fired at them.
Witczak's condition was unknown.
Jeffrey Miller heard gunshots and came out of his apartment and saw deputies pulling another deputy on to the grass. "It was kind of confusing, everything was happening," he said.
The apartment is near El Capital High School, which was locked down briefly. Residents were evacuated from the apartment complex, and surrounding streets were closed.
Fraser said the last time two San Diego sheriff's deputies were involved in a single shooting was in the 1980s.
"We had two of our deputies shot today in the line of duty," Gore said. "It's a constant reminder of how dangerous this job is that we do every day."
Copyright 2012 Associated Press