3 hidden dangers found in marijuana grow houses
It's important for officers not to treat entering and processing indoor marijuana grows as a routine event
---
Marijuana grows have been proliferating across the nation, and one-third of pot production comes from indoor grows. In a Canadian study, researchers found that law enforcement officers had suffered illnesses and injuries when responding to these operations.
Common effects reported include headaches, nausea, breathing difficulties, sinus congestion, sinus irritation and skin rash. In some cases, officers have been seriously hurt and suffered injuries that could have ended their careers. 
Here are some of the dangers cops may face when responding to marijuana grow houses: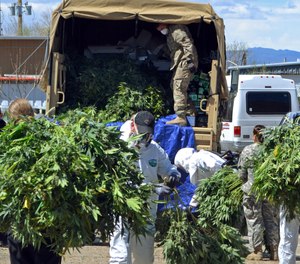 1. Molds and Fungus
Several officers (and some evidence technicians and property room personnel) have been exposed to life-threatening molds. A research team from National Jewish Health entered 30 illegal grow operations and found 40% of them had levels that would be classified as an indoor air quality problem. Officers have suffered respiratory injuries from these molds that have put them in hospitals for months at a time. These officers did not spend all day in the grow. Some of them were merely responding to calls for service, spent minimal time at the site, and still got sick. 
Officers are also getting sick from toxins from fertilizers and other contaminants on the marijuana. According to NES, a company providing safety training for police officers across the country, an officer worked in a large grow (1500 plants) for nearly five hours. At the end of the shift, the officer noticed a small finger cut. The following day, the officer was suffering from chills and profuse sweating. Over time, the officer experienced sore and swollen ankles, tight calves, sore joints and muscle twitching. After visiting a physician and eventually an internist, it was determined the officer had fallen ill from pesticide poisoning. 
What can you do to protect yourself? You should not enter an indoor grow unless you absolutely have to. If you do enter, it is recommended that you wear protective clothing, including a full face APR with a P100 respirator at a minimum, nitrile dipped gloves, Tyvek disposable suits and boots. Undergoing decontamination is a must when you are done with the scene. This may be different than how departments have responded to grow sites in the past, but there is conclusive evidence that officers are getting seriously sick from indoor grows. We must protect officers by providing the proper protective equipment. 
2. Faulty Electrical Hook Ups
There have been many incidents of officers and firefighters being electrocuted while dealing with indoor grows. In Alameda, California, a firefighter was seriously electrocuted while battling a fire at an indoor grow. In Phoenix, Arizona, a police officer was shocked while dismantling a grow. 
Growing marijuana takes an enormous amount of electricity – just four marijuana plants take up the same amount of electricity as running 29 refrigerators. In California, indoor marijuana grows account for 8% of all household electricity usage. 
Running that electricity into the grow creates some problems. Many growers end up altering the circuit coming into the structure where the grow is. Others may steal electricity, which presents other problems. Once the electricity is coming into the structure, growers will often use items in the growing process that will kick up the current, like ballasts. 
The best way to avoid an electrical shock at a grow is to make sure that the current to the house is cut off. You will need to bring the electric company with you to accomplish this. You should not start your investigation until the electricity has been shut off. 
3. Booby Traps
Although not as common, some growers do booby trap their sites. They are doing this more to protect their crops from theft than to harm the police. In Berne, New York, a man was almost decapitated by his own booby trap that he had set up in his crop. The most common booby traps have ranged from dogs roaming the grow to spikes set up along the exterior fencing. 
Although more elaborate booby traps have included explosives and guns set up to fire when doors are opened, these are much rarer. The best way to avoid being hurt by a booby trap is conducting good initial surveillance and intelligence gathering as well as going slow and being observant when on scene. 
Conclusion
It's important for officers not to treat entering and processing indoor marijuana grows as a routine event. We have been bombarded by the pro-marijuana legalization groups that marijuana is harmless. We, however, cannot fall into that lull. Indoor marijuana grows are harming our officers at an alarming rate and we must take precautions to protect ourselves. 
This article, originally published 12/02/2015, has been updated.