Cleveland Browns player arrested for battery of deputy in Florida
Browns defensive tackle Malik McDowell is also facing charges of resisting arrest and public exposure
---
By Dan Labbe
cleveland.com
CLEVELAND, Ohio — Browns defensive tackle Malik McDowell was arrested in Florida on charges of public exposure and beating a deputy, the South Florida Sun Sentinel reports.
The Broward Sheriff's Office arrested McDowell in Deerfield Beach on Monday, the report says, on charges of exposing himself in public, resisting arrest with violence and battery on a law enforcement officer.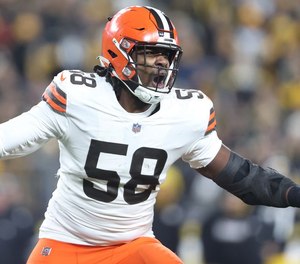 "We are aware of the very concerning incident and arrest involving Malik McDowell and are in the process of gathering more information," the Browns said in a statement Tuesday morning. "We understand the severity of this matter and our thoughts are for the well-being of all involved. We will have no further comment at this time."
According to the incidnet report obtained by the newspaper, Sheriff's deputies received a call of a naked man walking near a school.
When McDowell charged, the deputy reported he wasn't able to avoid the confrontation, use his weapon, or "de-escalation tactics." Amid the attack, the deputy fought back, but McDowell fled, the report said.
According to the arrest record, McDowell is facing charges of aggravated battery on an officer, resisting an officer with violence and public exposure.
The Browns signed McDowell to a one-year deal this offseason and he is an exclusive rights free agent. It now seems unlikely the team would retain him beyond the 2021 season.
In 15 games, he had 33 tackles, three sacks, seven tackles for loss and recovered a fumble.
The 2017 second-round pick never appeared in a game due to injury and legal issues. An ATV accident before his rookie year training camp sidetracked him after Seattle selected him No. 35 overall out of Michigan State.
The Seahawks waived him with a non-football injury designation in July 2018 before he ended up on their injured reserve list. He was eventually released in March 2019.
McDowell has had a number of legal issues since entering the league. He allegedly fought with two Lathrup Village police officers after getting stopped for suspicion of drunk driving, according to the Detroit News. The NFL suspended him for the first two games of the 2019 season as a result of the incident. He also faced charges of concealing stolen property two months later: a $74,000 Ford F-150 Raptor pickup he claimed to have bought off the street.
McDowell pleaded guilty to charges of assault/resisting arrest, operating a vehicle while intoxicated and receiving and concealing stolen property in October 2019. He was sentenced to 11 months in prison and three years probation and had to write three essays as part of his sentence.
"For me, my career is at stake," McDowell said in August. "My livelihood, taking care of my family, just to do what the every day person can't do, go out there in front of thousands of fans and play a game and get paid lost of money to do it. That's a lot of people's dreams and I get to live my dream."
The Browns brought McDowell in this offseason following his 2020 release from prison in hopes of rehabilitating him on and off the field.
"I know what my life could be without football and the stuff I fell into without playing football," he said, "and I just wanted to get some more structure back in my life, I didn't have enough structure in my life around that time. So my driving force really is just where I was at. I'm in the best place I can be right now, so that's really my driving force."
©2022 Advance Local Media LLC. Visit cleveland.com. Distributed by Tribune Content Agency, LLC.
McClatchy-Tribune News Service