Concealed carry has gone 'hi-tech' with Sticky Holsters
Sticky Holsters are available in 16 different sizes for just about any make gun, from Beretta to Walther
---
Folks who know me well know I carry all the time. Even down here in southwest Florida where shorts are the norm most times of the year, I'm never without ole' Roscoe. I have to tell you it's a challenge sometimes when I'm in workout-type shorts that have an elastic waistband. IWB rigs with belt loops and clips just don't work well with those types of clothes. And going "gangster" isn't my style either. Well, there's a new type of concealed carry holster that just hit the market and I got one for T&E.
I first wrote about Mike Christoff a year or so ago when he invited me to tour his Mobile Tactics range on wheels, Shoot On The Move (you may recall that I wrote about that here on Police1). He's the former Dearborn, Michigan/Marco Island, Florida cop/trainer who hauls his fully-equipped shooting trailer all over Florida to small- to mid-sized agencies that need judgmental shooting-type training or who don't have their own ranges. Mike has expanded into equipment now and has developed a new holster for carrying concealed.
I'm often contacted about new equipment and not much of it gets me excited, but this holster did light my board. Concerned about the same issues I've always had about carrying comfortably while in casual warm weather clothing, Mike came up with the idea for Sticky Holsters. Veteran firearms trainer Clint Smith likes to say "carrying concealed shouldn't be comfortable — it should be comforting."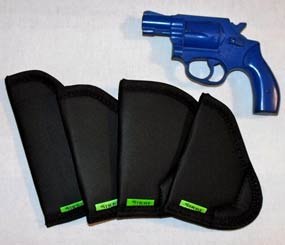 A New Holster for Carrying Concealed
Well, Clint ought to get his hands on a Sticky Holster. Constructed of a soft, leather-looking, rubber-like propriety material that actually molds to the shape of the gun when subjected to body heat, Sticky Holsters make carrying concealed a pleasure. Mike sent me two for T&E a while back — an LG-6 for my full-size Beretta 92F and an MD-4 for my wife, who also carries religiously, that fits her Smith .40 S&W cal. Chief's Special like a glove. This open-top, closed-bottom holster has an interior that's padded that will protect any gun's finish from sweat or body oils.
I couldn't believe it when I slipped my 92F into the holster, slipped it behind my right hip and drew from it. It isn't hard to figure out how Mike came up with the name. The gun came out smooth as butter, but the holster stayed right where it was supposed to, snug between my boxers and Nike jogging shorts. My only comment to Mike was that it took both hands to reholster.
"No prob" Mike said, smiling, "look at this." From underneath the counter he removed an identical looking LG-6 (made for large-framed semi's) called the Sticky Holster "Wide Mouth" model. Same smooth professionally bound black holster, but this custom option had a small piece of binding on the top front, right where the front sight rests, fitted with a thin strip of metal inside (think of those breath-easy strips that athletes wear) that keeps the mouth open enough so one-handed holstering is easy as pie. Mike also said he can adapt any of his Sticky Holsters with a thumb snap, too, should department policy require that IWB rigs have such a device. He'll even modify any to accept external laser sights or mini-tactical lights.
I've been using the standard "non-Wide Mouth" version for about a month now and I love it. As of this writing, Sticky Holsters are available in 16 different sizes for just about any make gun, from Beretta to Walther and everything in between, and more than 100 different models and calibers, with more being anticipated. Small sizes (SM-1, 2 and 3) work for all the current mini guns out there right now up to 3" barrels — the MD 1's through 5's fit most small-to mid size 9mm's and snubby revolvers up to 3-1/2" barrels — and the LG 1's through 6's can accommodate all 1911-type semiautos, full-sized Glocks and large frame revolvers up to a 5" barrel.
No Excuses
Knowing Mike as I do, his Lifetime "No Questions" Warranty on materials and workmanship wasn't a surprise, nor was the big "Made in the USA" sticker on the Holster Fit Chart and warranty card/brochure that accompanies the holsters. But, his 15 percent law enforcement discount on the retail $24.95 price was. Mike Christoff isn't in it for the big bucks.
He just wants cops to carry...all the time...and now there's no excuse not to.
---
For info on Mobile Tactics Firearms Training, contact Mike at www.ShootOnTheMove.com, or www.mobiletactics.com, or via email at mike@mobiletactics.com or by phone at (239) 434-1844. For info on the Sticky Holster, Mike can be reached at www.stickyholsters.com or at (239) 825-7031.
 By the way, Sticky Holsters has an incentive program where cops can earn a free holster. Officers can introduce this product to their favorite local gun shop or police supply store to qualify for the program. Visit their website to register.