Neb. cop in critical condition after shooting; 2 suspects in custody
The 23-year veteran of the department is fighting for his life after undergoing surgery Wednesday afternoon, the police chief said
---
Lincoln Police identified the wounded officer as Mario Herrera in a press conference Thursday. The agency said Herrera is fighting for his life as of Thursday afternoon.
By Chris Dunker
Lincoln Journal Star, Neb.
LINCOLN, Neb. — An exchange of gunfire across the street from a Lincoln elementary school at lunch hour Wednesday left a longtime police officer fighting for his life and two men in custody.
Police Chief Jeff Bliemeister said the 23-year veteran of the Lincoln Police Department, who was not named, underwent surgery Wednesday afternoon at Bryan West Campus.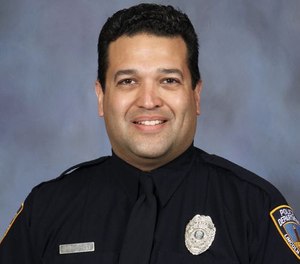 The officer remained in critical condition Wednesday afternoon.
At an afternoon news conference, Bliemeister said members of the Metro Area Fugitive Task Force, the department's gang unit and the criminal division had gone to a house on the southwest corner of 33rd and Vine streets after getting information that 17-year-old Felipe Vazquez — who was wanted for second-degree assault in connection with Edward Varejcka's stabbing death in March — was there.
Shortly after 11:30 a.m., police notified staff at Hartley Elementary School and social media followers of an ongoing situation, asking people to stay away from the area.
Then, around noon, two men — Vazquez and Orion J. Ross — came crashing out a window, one of them firing a shot that struck an officer in the chest, Bliemeister said.
It wasn't clear if both men were armed or which of them fired the shot. But, he said, after the suspect fired his weapon, another Lincoln officer returned fire.
Police wouldn't immediately say how many shots were fired in the exchange that sent Vazquez and Ross running, or if the officer was wearing a bullet-proof vest.
Then came the "officer down" call over the police scanner.
Rescue workers rushed the officer to Bryan West Campus, where others from the department were seen walking into the emergency room throughout the afternoon. Several police cruisers also were parked outside the hospital.
Meanwhile near the scene, within minutes, Ross, 19, was in custody. Police followed as Vazquez hopped fences and ran through backyards and ultimately entered a stranger's home in the 300 block of North 34th Street. When he came out, they arrested him.
Bliemeister said later that a firearm was recovered and that ballistic testing will be done to determine if it was the gun used to shoot the officer.
Neighbors said they heard multiple gunshots and saw the suspects fleeing.
A neighbor said he was sitting on his porch a half-block away when he saw a van pull up in front of a house and "three or four officers" get out, presumably to serve the warrant.
The officers were still outside when he reported hearing a total of four gunshots, the first seemingly coming from inside the house.
The neighbor, who asked not to be identified, said he then saw two people "storm out of the house" and take off running east down the middle of Vine Street.
Nancy Brt, who lives in that area, told the Journal Star that officers wanted her to go inside her home as she tried leaving for work at about 12:40 p.m.
"I opened my garage door to go to work," she said. "An officer stepped into the garage door with his gun drawn and asked 'Will you please go back into your house?'"
Hartley Elementary, 730 N. 33rd St., and nearby Clinton Elementary, 1520 N. 29th St., both took safety precautions at the recommendation of police.
Police first recommended Hartley go into "secure" mode shortly before noon, which means keeping all students inside because of a threat in the neighborhood. That was followed by a request that the school go into "lockdown," which means students stay away from the windows, interior doors are locked and lights are turned off.
The lockdown ended by the end of the day, but students remained inside until the final bell, and extra staff and police were on hand to make sure students stayed clear of the house where the shooting happened.
Clinton went into "secure" mode.
Messages to families at both schools said students were safe.
At the mid-afternoon news conference, Bliemeister, the police chief, said he wanted to provide his assurances to the public "that there is no ongoing risk to their safety."
He said officers tried to take into account in their planning that it is a high-traffic area near a school when they went there, looking to arrest a dangerous individual.
Bliemeister said Lincoln police are working closely with Lancaster County Sheriff's investigators, who are investigating the shooting of the officer, as well as the officer-involved shooting.
Police said neither of the two suspects was injured by gunfire.
Lincoln Mayor Leirion Gaylor Baird and Nebraska Gov. Pete Ricketts put out statements saying that Wednesday's shooting was a reminder that law enforcement officers put their lives on the line every day.
The shooting's impact ripples even beyond the department because of the strong relationships across local law enforcement agencies, Lincoln Police Union President Brad Hulse said.
"What happened today was very tragic," Hulse said. "We're just doing everything we can to support our officer and his family."
Last Friday, police got a warrant for Vazquez's arrest, setting the events in motion.
A judge sealed the affidavit detailing what police believe his role was in the crime, but prosecutors charged him with second-degree assault of Varejcka, 36, the same day he was stabbed to death at an apartment in the Clinton neighborhood.
On March 8, police said at least three people entered an apartment near 22nd and Orchard streets sometime before 3:30 a.m. A fight broke out, and one of the intruders stabbed Varejcka in the torso several times.
Marsalis Phillips, 16, is accused of second-degree murder and use of a deadly weapon to commit a felony.
Two others are accused of being accessories: Makayla Fell, 20, a resident of the apartment where the stabbing took place, and Krysean Reynolds, 19, who also is believed to have been at the apartment during the stabbing.
©2020 Lincoln Journal Star, Neb.
McClatchy-Tribune News Service