NLEOMF to announce mid-year LODDs for 2020, host panel on officer safety
The virtual event is open for registration
---
By Suzie Ziegler
WASHINGTON – A virtual panel discussion centered on keeping officers safe, organized by the National Law Enforcement Officers Memorial Fund (NLEOMF) and the National Law Enforcement Museum, will coincide with the release on July 14 of NLEOMF's annual Mid-Year Fatality Report.
The panel, comprised of experts in medicine, mental health, law enforcement safety and wellness, are expected to discuss the data, as well as effective ways to reduce line-of-duty deaths.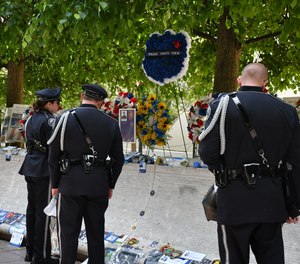 The free virtual event, to be hosted via Zoom, is scheduled for 1 p.m. to 2:30 p.m. on Tuesday, July 14. Register for the event here.
"A core tenet of our mission is to make it safer for those who serve," said NLEOMF CEO Marcia Ferranto, in a statement. "We have long tracked officer fatality data, but now, for the first time, we have created a program that will not only discuss the number of officer deaths but also immediately dissect that information with safety and wellness experts who can help law enforcement implement ways to reduce those numbers and keep officers' names off of the Memorial walls."
The mid-year report reflects line-of-duty deaths through June 30 at the local, tribal, state and federal levels. Some of the data's major takeaways are a 14% decrease in fatalities over the last year while firearms-related fatalities were the leading cause of law enforcement deaths, according to a release from the museum.
Deaths due to COVID-19 will also be included in the analysis. Currently, there are five confirmed coronavirus-related line-of-duty deaths. However, 53 cases are still pending. Should all 53 cases be confirmed, the number of line-of-duty deaths so far this year would jump from 65 to 118, a 55% increase from the same time last year.
John Matthews, Senior Director of Officer Safety and Wellness at the museum, will moderate the panel, which will feature:
Chief Will Balling, Sidney (OH) Police Department
Sheriff Ira Edwards, Clarke County (GA) Sheriff's Department
Sheriff Brian Gardner, Linn County (IA) Sheriff's Department
John Sheinberg, MD, FACC, Lieutenant, Cedar Park (TX) Police Department
Dr. Heather Silvio, Deputy Director, Police Training Institute