NYC orders coronavirus testing for first responders
Those that refuse to get tested will be subject to discipline and quarantine, officials say
---
Shant Shahrigian
New York Daily News
NEW YORK — Many city employees must get tested for the coronavirus if they've been to a country hit hard by the disease, been in close contact with a confirmed case or shown relevant symptoms, under a Thursday order from the city's health commissioner.
The order applies to city educators, health care workers and first responders.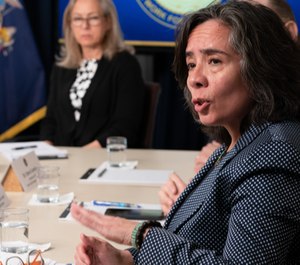 "I come at this in a positive spirit," Mayor de Blasio said at a press conference at NYPD headquarters. "I think everyone would want to follow the commissioner's orders in the name of their own health, their family's health and the people they serve and come into contact with. "This is not optional; this is required."
City workers who have visited China, South Korea, Japan, Italy or Iran within the past 14 days must get tested, a de Blasio spokeswoman said.
Other than having contact with a confirmed case, city workers with symptoms such as fever, cough and shortness of breath must get tested.
Designated city workers who meet the criteria but refuse to get tested will be subject to "mandatory quarantine" plus unspecified disciplinary action, de Blasio and Health Commissioner Dr. Oxiris Barbot said.
Explaining how the city picked which requires the order applies to, de Blasio said, "These are folks we need and we need them to be healthy and if they are in contact with other people, we cannot take if the risk they might spread disease.
De Blasio said the city might expand the order to cover all New Yorkers.
"We have the option [of] going further into the general public if we need to. It's something we're going to assess day to day, hour to hour," he said.
The city announced the third and fourth confirmed coronavirus cases in the Big Apple on Thursday. Statewide, there were 22 total coronavirus patients as of Thursday evening.
McClatchy-Tribune News Service