NYPD unveils lighter body armor for detectives
The vests have been distributed to detective squads in an effort to get more officers to wear the life-saving armor
---
Rocco Parascandola
New York Daily News
NEW YORK — The NYPD is rolling out hundreds of lighter, bulletproof vests in an effort to get more detectives to wear the potentially life-saving armor, officials announced Friday.
The department says 550 vests will be distributed to various detective squads around the city for a pilot program, and on Friday gave one of the first ones to Det. Ricky Waters — the partner of Det. Brian Simonsen who was killed by friendly fire in Queens in February.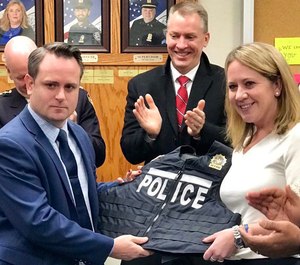 Simonsen's widow, Leanne Simonsen personally hand-delivered the vest to Waters at the 102nd Precinct, one of 16 vests that were distributed to the command.
Det. Brian Simonsen was not wearing his bullet-resistant vest on Feb. 12 when he was accidentally killed by fellow cops while responding to a cell phone store robbery.
His death brought into sharp focus a long-standing complaint: that many detectives don't wear their vests because they're too bulky to wear over their business attire.
The new vests are nearly half the weight of the vests currently worn by cops in uniform — which weigh between 2 1/2 and 3 pounds — and fit more easily over a suit or dress shirt.
The new vests are also equipped with a zipper to make it easier for detectives to remove them when interviewing a victim, for example, then put them back on when chasing a suspect.
"This here allows them in a split second to throw something on over a suit jacket," Police Commissioner Dermot Shea said Friday.
The custom-made vests have already proven to be bullet-resistant in firing range tests, Shea said.
"Are they actually wearing it?" Shea said. "That's really the key. We know it's going to stop the rounds. It's, is it going to be worn?"
The Police Foundation is footing the bill for the armor, spending more $550,000, or about $1,000 per vest.
Paul DiGiacomo, the incoming president of the Detectives' Endowment Association, called the vests "more comfortable, better fitting."
He said each time detectives slip on the vest, "they will continue the solemn vow to never forget Det. Brian Simonsen."
McClatchy-Tribune News Service