Police union honors paramedics for helping officer under attack
The paramedics came to the aid last month of a police officer knocked to the ground by a man who was pummeling him with punches while yelling "I'm going to kill you"
---
By Harry Harris
East Bay Times
OAKLAND — Three civilian paramedics who came to the aid last month of a police officer knocked to the ground by a man who was pummeling him with punches while yelling "I'm going to kill you" were honored for their actions Wednesday by the Oakland Police Officers Association.
Paramedics Heidi Nishimoto, Mason Kinnard and Kristina Douglas, who work for Paramedics Plus, were each presented the Big Willie Whitley Citizenship Award named in honor of legendary Oakland private security guard William Whitley, considered in his time the guardian angel of Oakland police officers.
Sgt. Barry Donelan, OPOA president, called the three "a team of heroes" who "stood your ground against an extremely violent and unpredictable suspect."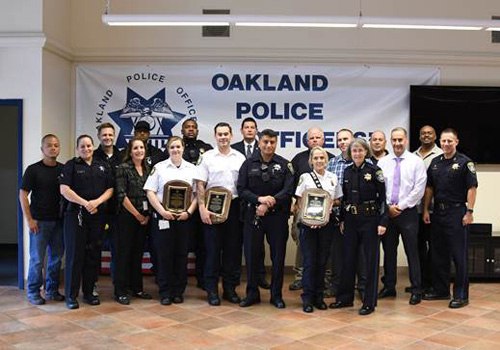 He said the "courage, resiliency and determination" they exhibited "allowed an Oakland police officer to live another day," which is what the award stands for.
The paramedics were honored for helping Officer Hector Chavez in the aftermath of a reported car crash on June 6 in the 9800 block of Golf Links Road. A man, later identified as Sean Miller, had crashed his vehicle a few blocks away and had walked to the Gold Links site where he was found by the paramedics and Chavez, who was about to end his overnight shift.
While the paramedics were treating him, Miller suddenly grabbed a hard plastic medical backboard and began striking them and Chavez when he tried to intervene. According to authorities, Miller was able to knock Chavez to the ground, where he got on top of him while raining punches on him, screaming, "I'm going to kill you" and "you're going to die."
The paramedics were able to help stop the attack and call for other police assistance. Nearby officers responded and were able to subdue and arrest Miller, 38, of Woodland Hills. Chavez and the paramedics all needed medical treatment.
Miller is charged with six felony counts, including assaulting a police officer, battery with injury on a peace officer, resisting a police officer and one count of assault with a deadly weapon for each paramedic attacked.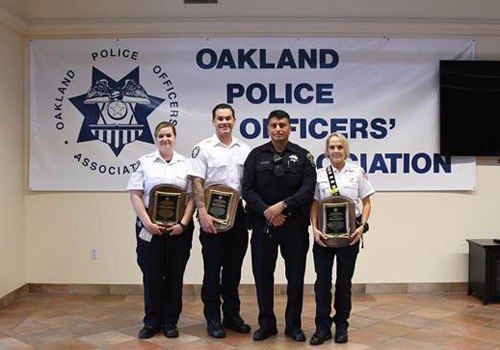 Nishimoto, a 30-year veteran paramedic, said they at first radioed for help but then when they saw how Chavez was "being overwhelmed" they decided he "needed immediate help so we stepped in to get him under control."
She said she was "surprised, and honored and humbled by this experience" and when asked if she would do it again, said "obviously, without hesitation." Kinnard and Douglas said they would too.
Chavez, a 12-year-veteran, said he thought at first it would be a routine call before the 6-foot-3-inch, 270-pound White started attacking the paramedics and he ended up getting a in fight, possibly for his life.
"I'm thinking this guy is much taller, much bigger. He's on top of me and it's not looking good. It was nice to have them there to help. It could have been worse. I'm grateful to them."
Chief of Police Anne Kirkpatrick, who attended the ceremony, said all first responders "collectively work together not only ensuring public safety but each other's safety. What these paramedics did for our officer was extraordinary and and it is deeply appreciated."
Whitley, a 6-foot-4-inch, 250 pound man who died in 1973, had for decades come to the aid of numerous Oakland police officers involved in violent situations. He also, on his own, arrested numerous suspects, including robbers and a man who shot him while he was trying to break up a bar brawl.
©2018 the Contra Costa Times (Walnut Creek, Calif.)
McClatchy-Tribune News Service