"Street Survival II" offers survival strategies for all LEOs
The iconic police tactics textbook is updated to reflect the current challenges facing our nation's police officers
---
When "Street Survival, Tactics for Armed Encounters" by Charles Remsberg was released in 1980, I was six years into my career as a full-time street officer, also working part-time outside of my agency as a police trainer.
At that time many "police tactics" weren't taught but instead loosely passed from officer to officer. Camp Perry was still the main course of fire on most police ranges.
Because I was trying to find, acquire, use and teach the best police tactics at the time, I bought the original "Street Survival, Tactics for Armed Encounters," which I read from cover to cover. For myself, and thousands of other officers hungry for effective survival tactics, it was like the heavens opened. This is an appropriate analogy because in those days it was known as the "Police Officer's Bible of Survival."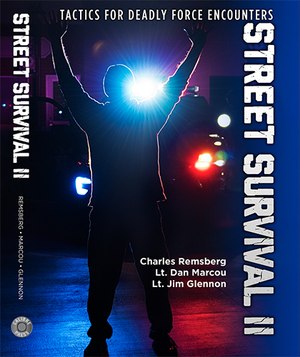 I thanked God and Charles Remsberg personally for that book because I can honestly tell you reading it literally saved my life on the street, which is one of the stories shared in the new book.
The sequel to "Street Survival"
Considering all that, imagine my shock and awe, when Jim Glennon of Calibre Press contacted me with a request. The retired officer and nationally respected trainer told me that while traveling around the country teaching Street Survival seminars for Calibre Press he was often asked, "When will the original "Street Survival, Tactics for Armed Encounters," be updated?" He told me he had decided to do it and wanted me to assist him with the re-write.
My initial thought, having been overwhelmed by the request, was, "How can I do this?" My brain answered the question with, "How can I not?" I have dedicated my whole adult life to maintaining my professionalism and honor, while keeping my name off the wall. At the same time, I have also committed myself to assisting my fellow officers to achieve these goals as well. I told Jim I would do it.
That phone call took place 18 months ago and I am proud to announce that the fruits of our labor of love, "Street Survival II, Tactics for Deadly Encounters," is now available.
What's new about "Street Survival II"?
As a life-long practitioner/trainer I was able to identify tactics that have gone the way of the revolver-wielding officer. I was also able to identify the still golden tactics and principles we should keep in the book.
Jim and I endeavored to seamlessly weave into that original tapestry new tactics and material. Clearly with the challenges of policing in the current era some police tactics have changed since the first edition was released in 1980. Besides updated tactics in "Street Survival II," you'll find additional chapters on active shooter response and surviving an edged-weapon attack. There are chapters on reading the body language of suspects to predict and prevent assaults and another on communicating effectively in an effort to become "black belts in dialogue."
The book addresses not only how to physically and legally survive your career, but also how to survive it emotionally and thrive as an LE officer. Too many of our brothers and sisters die by their own hands and we strived to help prevent future deaths like this as well.
The mudroom  
To give context to the tactics placed strategically throughout the book are stories of officers who have been in what we call "the mudroom" – which exists between life and death – and prevailed. These officers describe how drastically the reality of time, space, distance, physical capabilities, sights and sounds are altered when you enter the mudroom. There is the story of the officer who continued to fight after his throat was slashed. In another, an officer was shot in the heart but refused to lay down to die. Two officers explain how they were ambushed and won, while two others share how they were shot in the face but continued to fight. All made it not only to the end of their shifts but also to the rest of their lives.
Each survivor shares the lessons they learned as a result of their time in the mudroom. These lessons are at once simply stated, yet infinitely profound.
Prepare your mind
Retired CHP officer and nationally acclaimed police trainer Gordon Graham says of "Street Survival II" that "If you hate the sound of bagpipes as much as I do, this book is for you."
This book should be owned and read repeatedly throughout every officer's career – from recruit to chief – to discard the casual t-shirt of complacency and don the righteous armor of mental preparedness. As one police survivor declared, "You have to prepare your mind for where your body has to go."
Order "Street Survival II" here.