Video: Dallas man fires guns, runs over police officer, injures K-9
The man pulled out two handguns and fired them in the air while yelling, "What are you going to do?"
---
By Kaley Johnson
Fort Worth Star-Telegram
DALLAS — A Dallas man was arrested during a manhunt Sunday after police say he was caught on video running over and dragging a Garland police officer with a car.
Gabriel Cobarrubias, 29, was arrested after police used a helicopter and K-9 unit dogs to search for him.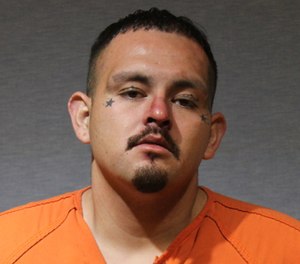 At about 9:30 p.m., Garland police received a call that a man was shooting a gun into the air at a convenience store at the intersection of South First Street and Glenfield Drive. The man, who police identified as Cobarrubias, pulled into the store parking lot in a red Infiniti and blocked a customer's car, Garland police said in a press release.
An employee asked Cobarrubias to move his car, police said, and Cobarrubias pulled out two handguns and fired them in them air while yelling, "What are you going to do?"
When officers got to the store, Cobarrubias was inside. When he walked out, officers told Cobarrubias to surrender, but he refused and went back into the store, police said. Shortly after, he quickly walked out of the store and got into his car.
One officer reached into Cobarrubias' car through the driver's side door. Cobarrubias reversed quickly and dragged the officer through the parking lot,  police said. When Cobarrubias turned the wheel, the officer was freed from underneath the car, but the car ran over his leg. The passenger door hit the other officer. Cobarrubias drove away.
Garland police shared a video that was posted on Facebook that shows the officer being dragged and run over by the car.
A Dallas Police Department helicopter helped track Cobarrubias as he drove through a residential neighborhood. He stopped in an ally in the 2000 block of Merrimac Trail and fled into a nearby field, police said.
A Garland K-9 police officer and a police dog found Cobarrubias in a drainage pipe. During his arrest, Cobarrubias injured the dog, police said.
Garland police said they found a handgun on Merrimac Trail and another gun at an unspecified location.
Cobarrubias had an active felony warrant for burglary of building out of Dallas County. He was at the Garland Detention Center on Monday and faced multiple charges, including two counts of aggravated assault against a police officer, discharge of firearms in certain municipalities and unlawful possession of a firearm by a felon.
The officer who was run over had a fractured tailbone and went to a hospital, where he was later released. The second officer had minor injuries to his knee and hip, police said.
———
©2020 the Fort Worth Star-Telegram
McClatchy-Tribune News Service