Video shows Wis. LEO pepper sprayed by suspect
Police say the officer immediately lost vision in one eye then was temporarily blinded in the other eye just seconds later
---
Brad Allen
WiscNews
PORTAGE, Wis. — Dash cam video footage made public Tuesday showed that moments after Columbia County Sheriff's Deputy Michael Rosecky stopped a tan 2011 Chevy Silverado for speeding early Monday morning, he reeled back from the truck's driver's side window, covered his eyes and drew his firearm.
"Show me your hands, now," Rosecky is heard yelling in the video before the truck pulled away from the side of the road and drove off.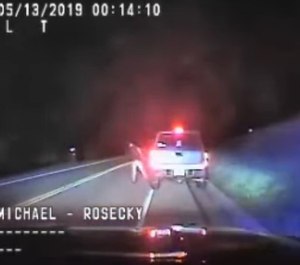 Columbia County Sheriff Roger Brandner said in a news release Monday that a deputy had been temporarily blinded by a liquid substance, later believed to be oleoresin capsicum, or pepper spray.
Brandner told the Daily Register that Rosecky immediately lost vision in one eye — then was temporarily blinded in the other eye just seconds later.
Rosecky still attempted to give chase to the fleeing truck, but within a matter of seconds he pulled his vehicle over and was unable to continue pursuit, the video shows.
In a separate news release Monday night, Brandner identified Joshua T. Martin, 30, of Milwaukee as a person of interest in the incident.
Martin is listed as a missing person from Dane County, and he was last believed to be near Highway 188 and Selwood Drive in the town of West Point near Lake Wisconsin in Columbia County and Prairie Du Sac in Sauk County.
Brandner said the Dane County Sheriff's Office has assisted in an ongoing search. Authorities do not believe Martin is still in the immediate area, and he had been known to have lived in the woods at one point previously.
The truck was stolen from a residence on Lee Road in Dane County early Monday morning, Brandner said.
Lee Road runs from the town of Roxbury eastward through the town of Dane.
Brandner said no further car thefts have been reported, and Martin was last seen on foot. Several K-9 units have since swept the area.
"That was one day ago. He could have covered a lot of ground," Brandner said.
Timestamped at 12:13 a.m. Monday, the video shows Rosecky exit his squad car and approach a tan pickup truck with an extended topper. Rosecky is heard saying the truck's driver was traveling at 63 mph when he initiated a stop for speeding.
Brandner said the traffic stop occurred before the owners of the vehicle even knew it was missing from their property in the first place.
Speaking to the fact that Rosecky drew his firearm, Brandner said any time a law enforcement officer's safety is compromised, they respond to their training. Brandner said that Rosecky did just that and maintained his composure despite being in a challenging situation.
Although Brandner said he was disturbed by the fact that someone would use pepper spray on a law enforcement officer, he is thankful the incident did not result in serious injuries.
Brandner said Rosecky was treated at a hospital after the incident, and his injuries were not expected to have a long-term effect.
"It's good to know the deputy appears to have recovered," Brandner said.
A felony charge of battery of an officer is likely to be recommended in this case, Brandner said. Formal charges would be left up to the district attorney's office to decide if or when a suspect is apprehended.
———
©2019 WiscNews
McClatchy-Tribune News Service