What a Wis. cop's brush with death tells us about the will to win
After this officer's squad car was swept away in flood waters, he drew all his strength from within to survive
---
On July 11, 2016, Bayfield County Sheriff's Department Deputy David Dawson hit the road for his 5 p.m. to 3 a.m. shift. He knew the 10 inches of rain his county had received in the last 24 hours would be his primary concern as the rain was still coming down.
Dawson's mission on this night was to navigate the county and find washouts before they could trap unsuspecting motorists. Halfway through his shift, he located a major road washout and culvert collapse so he set up a detour around the area.
He then cautiously wound through the Chequamegon-Nicolet National Forest in northern Wisconsin only to discover Camp Eight Road Bridge was gone. He notified dispatch of the hazard, turning off to find a detour around the washout. As he maneuvered his squad through the forest, the heavens opened once again, making visibility a distant memory.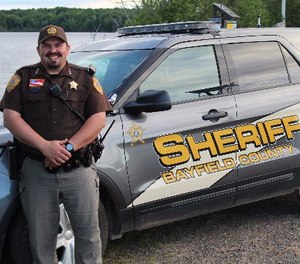 The last washout
As Dawson cautiously drove through the dark, wet shroud that enveloped him, he was stunned to see water suddenly washing over his headlights and sensed his squad was floating. Dawson had found another washout - the hard way.
Water rushed into the passenger compartment through the passenger window. He tried to force open his door but was initially thwarted by the wall of the flooded ditch his squad was in.
With great effort he forced open the driver's door and, as it swung out, the rushing water braced it wide open. It seemed the cascading water was inviting the deputy to join it on its journey.
With few options available, he accepted the invitation and stepped from his car, plunging instantly into the now deep, raging waters. Dawson sensed himself being swept under his squad by the front driver's side tire. He was dragged along the bottom by the current and tossed about like a twig in rapids.
Dawson managed to fight his way to the surface twice for air over a quarter-mile stretch. Sensing inaction would be the end of him, he engaged his brain. After reorienting himself he determined he was no longer in the creek, but in the water that had swept over the creek's bank. He became aware of being catapulted past logs and trees, so he decided it was time to act.
He reached out into the unforgiving nothingness of the floodwaters and later said, "I slammed hard into a tree and managed to hold on to it."
As Dawson came up gasping for air he became aware of the powerful roar of raging water that was trying to tear him from the tree. He tightened his grip and held fast.
The Call for Help
Now in survival mode, Dawson said, "I managed to remove my radio and, in the dark, change the channel to WISCOM, the emergency channel for multiple agency operations my dispatcher was monitoring. The 911 dispatcher couldn't copy my first transmission, but my friend Deputy Michael Kastern knew I was in trouble."
Hearing help was on the way, Dawson tied his radio above water to a branch using his lapel mic cord. Amazingly, his Motorola radio worked throughout the night. In follow-up transmissions, Dawson directed rescuers to his remote location. Constable Kevin Johnson was the first person to arrive and call to David from the distant shore.
The Ordeal Continues
David's ordeal was far from over. It was no easy task for Bayfield County to assemble personnel and equipment to respond because of county-wide washouts. Dawson had to hold on to the tree for hours, with fatigue his constant companion. He fought through the pain by picturing his wife, Heather, their 2-month-old son, Dane, his 5-year-old boy, David Jr., and his 10-year-old daughter, Mallory.   
When Dawson felt his physical reserves were nearly depleted, the words of his academy trainer, Sam Lenda,  became Dawson's mantra. He repeated over and over, "I'm not dead until I stop breathing. I will never give up!"
As Dawson approached total muscle failure he had to improvise and overcome. He later explained, "I knew I couldn't physically hold on much longer, so I tied my tourniquet around the tree and then around my left wrist. So whenever I lost my grip on the tree, the tourniquet held me there."
The Rescue
When his fellow officers and fire rescue personnel arrived, they jerry-rigged ropes and adapted an inflatable rescue raft designed for ice rescues to traverse the water to reach Dawson. During the difficult water crossing a firefighter was swept away, but was unharmed as he was equipped with a Mustang rescue suit.
Dawson's Lieutenant, Thomas Renz, and firefighter Dan Arens were the first to reach Dawson and free him from his precarious perch. Before he was transported to the hospital, Dawson called his wife. As her voice came over the phone, for the first time in four hours, Dawson felt reassured he had the rest of his life ahead of him.
Aftermath
"Due to the extreme conditions and physical exertion, I arrived at the hospital with only three percent kidney function," said Dawson. "They told me I suffered from rhabdomyolysis, which causes a total break-down of muscles and kidney failure." 
Even though Dawson was able to return to work shortly after the incident, his kidney function did not return to 100 percent for six months.
Since his experience, Dawson has decided to become a trainer. He explained, "I'm still a 'rookie,' but I have a passion to teach. The end game is to inspire others. I'm still creating my legacy and, if I can pass anything on that will save their life, I'll know that I made a real difference."
Dawson says his experience made him realize that a police officer must always:
Be resilient;
Be aware of their surroundings;
Be prepared to think outside the box;
Be relentless.
Dawson also shared these words echoed by so many critical incident survivors: "You must never give up!"