3 face federal gun charges in killings of Ind. LEOs
Three individuals are believed to have illegally purchased firearms that were used in the slayings of the two LEOs
---
By Police1 Staff
INDIANAPOLIS — Three people will face federal charges related to the firearms used in the separate killings of two Indiana law enforcement officers.
On Monday, U.S. Attorney Josh Minkler formally announced the charges against the three individuals believed to have illegally purchased firearms that were used in the slayings of Boone County Deputy Jacob Pickett and Terre Haute Officer Robert Pitts, WISH-TV reported.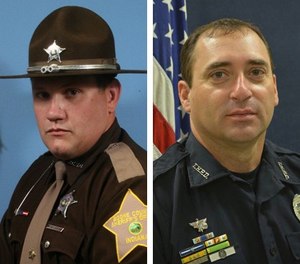 In March, Pickett was shot while assisting police during a pursuit. He was kept on life support for organ donation before he died three days later.
Investigators said Dawn Rochon, 29, lied on purchasing documents when buying a 9mm handgun that was later used to kill Pickett. Investigators she lied multiple times to purchase firearms and now faces eight counts of making false statements when acquiring a firearm.
Pitts was one of four officers shot in a shootout after confronting a murder suspect at an apartment complex in May. Pitts was taken to a hospital, where he succumbed to his injuries.
Officials said Tiffany Dean, 33, purchased a firearm on behalf of her brother, 20-year-old Levin Brenton, who was too young to buy it. Investigators said Brenton later sold the gun, which was used to kill Pitts.
Dean faces charges of making false statements when purchasing a firearm. Brenton's charges include conspiracy to make false statements when purchasing a firearm and selling/giving a firearm to an unlawful drug user.