ATF agent shot in the face in Chicago is out of hospital
The ATF agent, whose name hasn't been released, is expected to make a full recovery
---
Associated Press
CHICAGO — A federal agent who was shot and wounded by a purported street-gang member in Chicago has been released from the hospital.
The Bureau of Alcohol, Tobacco, Firearms and Explosives on Wednesday announced the update on Twitter . The ATF agent, whose name hasn't been released, was shot once in the face Friday and is expected to make a full recovery.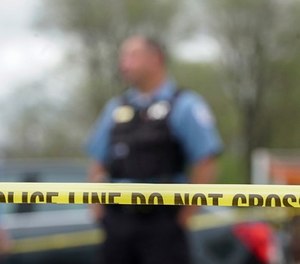 Ernesto "Ernie" Godinez, who is listed by police as a gang member, is charged with forcible assault. Charging documents say he opened fire as authorities conducted a middle-of-the-night "covert" operation to fit a tracking device on a vehicle in the Back of the Yards neighborhood on the South Side.
Godinez was arrested Monday night. If convicted, he faces up to 20 years in prison. More charges could be added later.
The ATF agent who was shot in the line of duty last week in Chicago has been released from the hospital. Thank you to the staff of @CookCtyHealth Stroger Hospital for the excellent medical care.

— ATF HQ (@ATFHQ) May 9, 2018