Detective: Man confessed to making deadly Kan. 'swatting' call
A California man confessed after his arrest that he made the hoax calls that led a fatal OIS, adding he routinely made similar calls to seek attention
---
By Roxana Hegeman
Associated Press
WICHITA, Kan. — A California man confessed after his arrest that he made the hoax calls that led a police officer to fatally shoot an unarmed man in Kansas, adding he routinely made similar calls to seek attention, a detective testified Tuesday.
Tyler Barriss, 25, is accused of calling Wichita police from Los Angeles on Dec. 28 to report a shooting and kidnapping at a Wichita home. The person who made the two calls said he shot his father in the head and was holding his mother and younger brother at gunpoint in a closet in the house.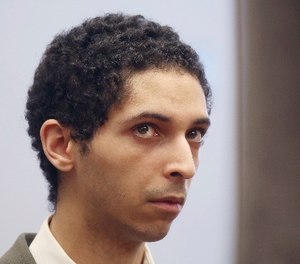 Police went to the house where they thought the crime was occurring, and an officer fatally shot 28-year-old Andrew Finch after he opened the door.
The shooting drew national attention to "swatting," a practice in which a person makes a false report to get emergency responders to descend on an address. Finch had not been the intended target of the call.
Sedgwick County Judge Bruce Brown ruled after the preliminary hearing Tuesday in Wichita that there was sufficient probable cause for trial on charges of involuntary manslaughter, giving a false alarm and interference with a law enforcement officer. The arraignment was set for June 29.
Los Angeles police detective Edward Dorroh told the court that in a police interview the day after the Kansas shooting Barriss claimed that he had "calculated the risk" that someone might be hurt responding to a false call. Reading from the transcript of that police interview, he testified Barris told him "it was only a matter of time and I guess that time was last night. It was so stupid."
Dorroh said he asked him whether he knew someone could get hurt, and Barriss replied: "I did know that. I am not going to deny that. I did know... the worst possible outcome happened. It is just so unfortunate."
The detective also testified that when asked why he did it, Barris replied that it was "attention seeking" and that he would have kept doing it if he hadn't been caught.
Barriss, who used the Twitter handle @SWAuTistic," told investigators that the Wichita swatting was the result of a dispute over a video game involving a $1.50 bet, Dorroh said. One of the players contacted Barriss because a rival in the game was taunting him. Barriss told police he got the Wichita address from the player who initially contacted him, then followed the other player on Twitter and confirmed the address with him.
Wichita police officer Justin Rapp testified that he was assigned to provide cover from across the street for responding officers on the night of the Wichita shooting. He said he believed at the time that the man who came to the door was the one who had called 911 to report he had killed his father and was holding his mother and sibling at gunpoint.
Rapp said Finch was not compliant with the commands from police officers, and he saw him very briefly put his hands up to ear level and just as quickly put them down to his waist band. Finch then made a motion that looked like he might be drawing a gun from his waistband or a holster. Rapp said he fired one shot from his rifle.
"My fear is that he is going to open fire on the officers," Rapp said, adding his decision to shoot was based on information from the 911 call and Finch's actions on the porch.
Prosecutors have declined to charge the police officer who fatally shot Finch. District Attorney Marc Bennett told reporters in April that the officer who fired the shot was stationed across the street, and fired believing Finch was reaching for a weapon when he moved his arm.
Bennett told reporters after Barriss was charged in January in Kansas that there was no other situation quite like it to reference, acknowledging the "sort of novelty" of the case.
Bradley Sylvester, the attorney who represents Barriss, said Monday that what the defense is trying to accomplish at the preliminary hearing is to find out as much evidence as possible that is not in the reports and get as much information as possible. The defense did not present any evidence at this stage of proceedings.
Asked whether the defense believes the evidence supports the involuntary manslaughter charge, Sylvester replied: "That is a weird question because there is not another case quite like it."