Officer Stacy Booth: 'I didn't think I'd survive'
Booth underwent four surgeries in the first two days after the shooting, waking up after a medically induced coma to discover she was breathing through a tube
---
Two months before Michael Lester opened fire through the front door of his Auburndale (Fla.) house with an SKS rifle, he was paid a visit by the very officer whom his 7.62x39mm rounds would later critically wound.
Stacy Booth of the Auburndale Police Department arrived at Lester's house around 0200 hours, after a neighbor complained about his barking dogs. She knocked on the door. Lester answered. A few words were exchanged and then he slammed the door in her face.
"Even then," Booth said, "I had an eerie feeling."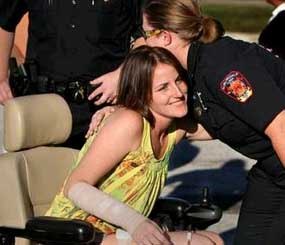 The 911 Call
Time passed. Booth all but forgot about the incident. Then on the second of September at approximately 2000 hours, an eight-year-old child called 911 from Lester's house.
"Mom and Dad are fighting," was all she said before hanging up. The dispatcher called back. The girl answered the phone and said, "Never mind." The child's mother took the phone and told the dispatcher she was taking her daughter and leaving. The dispatcher told the woman an officer would be responding to check on the welfare of the residents.
So, for a second time, Booth was dispatched to Lester's house. And for a second time, she knocked on the door. This time, however, he didn't answer. This time, he stood waiting behind the door with a loaded semi-automatic rifle.
"I knocked and he just started shooting," Booth said.
Lester fired more than twenty rounds right through the closed door.
Booth had approached from an angle, using cover as trained, but Lester was watching through the peephole. She was reaching for her sidearm when she was struck by the first bullet. It split open her right forearm, blowing two arteries, striking the gun and rendering it inoperable.
I Didn't Think I'd Survive
"The first thing I thought was, 'Oh my God, this is actually happening'," Booth said. "Even though every officer knows it can happen, we never think it will happen to us."
The second bullet passed through her lower right abdomen, severing part of her intestines, putting a hole in her pelvis and cracking her femur. She collapsed.
"When he shot me in the stomach, I fell back," she said. "It happened in slow motion. I just remember thinking to myself over and over, 'I'm being shot right now'."
As she fell, Booth grabbed her radio and tried to call out, but all she could muster was a scream. On the ground, she gathered her composure and dragged herself away from Lester's gunfire.
"It didn't know how I did it except for the pure will to live."
Booth crawled 50 feet toward a neighbor's house. As luck would have it, those neighbors had heard the commotion and were opening their garage door as Booth approached. She crawled inside, keyed up her radio again and announced she'd been shot.
The neighbors panicked and ran back into their house. Booth lay on the floor and waited.
"I didn't think I'd survive," she said. "My wounds were so severe."
The Cavalry Arrives
Four Auburndale police officers were first on the scene, including Booth's Lieutenant.
"They went right to it," she said. "They applied pressure on my injuries. I would not be here if not for them."
It had been 20 minutes since the shooting when paramedics arrived.
"It felt like a lifetime," Booth said. "It felt like forever."
An ambulance carried Booth two blocks to an awaiting helicopter destined for Lakeland Regional Medical Center. As it left the ground she looked at the pilot and said, "just give it to me straight."
He looked back. "You are going to be fine."
On the ground, SWAT team members surrounded Lester's house. A standoff ensued. Officers fired tear gas canisters inside until Lester collapsed. He was wheeled away with his hands and feet handcuffed to a stretcher.
"Did I hurt anyone?" He reportedly continued to ask.
"Yes, you shot a female officer and she is in bad shape," a deputy said. "Does that make you happy?"
"Yes it does make me happy," he replied with a smile.
Road to Recovery
Booth underwent four surgeries in the first two days after the shooting, waking up after a medically induced coma to discover she was breathing through a tube.
Today, she is still immobilized — bound to a wheelchair because risk of infection made operating on her pelvis too risky. She has no feeling in most of her hand due to nerve damage and can't straighten her fingers all the way.
"There's a pretty good amount of metal in my arm," she said. "It will be coming out for the next 30 years."
Nonetheless, she won't be in that wheelchair forever. Her physical therapy is expected to begin in January and doctors think she'll have made a full recovery in 18 to 24 months.
"I can't wait to start physical therapy," she said.
When Police1 spoke with Booth, we asked if the experience had given her any insight that she would like to share with other officers.
"What I took away from this is this: people see you before you see them," she said, stressing the importance of taking time to absorb your surroundings when responding to any domestic dispute call.
"We go up to houses all the time and stand right before the door. I used to have a trainer that said take your time — nothing says you have to go right up to the door."
"Next time," she added, "I'll be a lot more cautious."