Ohio LEO shot while serving warrant in 'grave' condition
Jorge DelRio was shot twice in the face serving a warrant as part of a DEA task force
---
Cornelius Frolik
Dayton Daily News
DAYTON, Ohio — Jorge DelRio has been identified as the Dayton police officer shot Monday night while serving a search warrant with a DEA task force.
Dayton Police Chief Richard Biehl described DelRio's injuries as "grave" and said he had been shot twice in the face.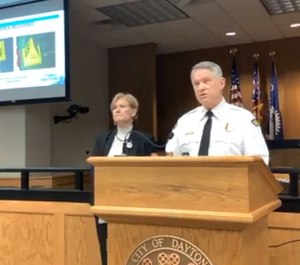 DelRio has served with the police department for 30 years.
In 1990, DelRio received an award from the Dayton Police Department for heroism and professionalism.
Four years later, DelRio again was honored by the police department for outstanding performance on duty related to his work with a neighborhood security detail.
In 1997, DelRio aided in an investigation that resulted in one of the largest cash seizures related to criminal activities in the region.
DelRio helped translate when authorities were interviewing a drug-trafficking suspect who eventually led police to more than $855,000 in criminal proceeds.
In the mid-2000s, DelRio worked in an undercover capacity assigned to the DEA, according to court records.
DelRio is married to his wife, Kathy. They have multiple children, including daughters Ariel and Erica.
The Dayton FOP has postponed its policeman's ball on Saturday in light of the shooting.
Many police officers who were planning and organizing the event worked directly with the wounded officer, said Rick Oakley, president of the Dayton Fraternal Order of Police Lodge 44.
DelRio, along with other DEA task force members, approached a home sometime before 7 p.m. Monday in the 1400 block of Ruskin Road in Dayton when he was shot.
DelRio was the only person injured, according to a release from Dayton police. Fellow officers loaded DelRio into a police cruiser and drove to Grandview Medical Center.
Five suspects in the house were taken into custody and a large amount of fentanyl and cash was recovered at the address, Biehl said. Multiple weapons were also found at the home, according to a Dayton police statement.
McClatchy-Tribune News Service