Pa. shooting suspect charged with attempting to kill officers
Man who randomly fired a semi-automatic rifle in the parking lot of a shopping center provoked a shootout with police
---
Associated Press
WILKES-BARRE, Pa. — A man who state police said randomly fired a semi-automatic rifle in the parking lot of a northeastern Pennsylvania shopping center, provoking a shootout with police that left him wounded, was charged with trying to kill law enforcement officers.
Scott Lee Sargent, 31, of Shenandoah, also was charged with assaulting law enforcement officers, aggravated assault, being a convicted felon in possession of a firearm and reckless endangerment.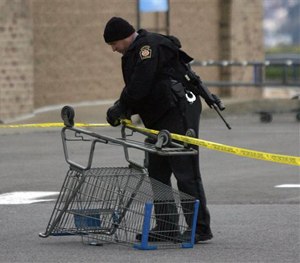 State police said officers responded Saturday afternoon to multiple 911 calls about gunfire outside a Wal-Mart, which struck several parked vehicles. The man began firing at local police with a .223 caliber rifle when they arrived and they returned the fire, state police said. Multiple rounds were exchanged, but neither police nor the public was injured.
The suspect was wounded in the abdomen and thigh, state police Capt. James Degnan said. He was taken for treatment to Geisinger Wyoming Valley Medical Center, where he was being guarded early Sunday by state police pending medical clearance for arraignment.
A telephone listing for Sargent could not be found.
A woman who was with him was being questioned by state police in an attempt to learn what prompted the gunfire. Degnan said he was unsure whether the woman is related to the man, but that police do not consider her a suspect.
Businesses, including a Wal-Mart that anchors the shopping center, were locked down during the gunfire.
Tina Wagner, an assistant manager at Wal-Mart, said there no interaction between the shooter and people in the store.
"We kept all our associates and customers safe," she said.
Copyright 2015 The Associated Press