Slain NYPD officer recalled as devoted mom, cop
Miosotis Familia had resisted suggestions from family to retire, partly due out of a dedication to police work, but also because she had three children to support
---
By Mark Morales and Nicole Fuller
Newsday
NEW YORK — Slain NYPD Officer Miosotis Familia was devoted to her three children — 12-year-old twins, a boy and a girl, and her daughter, a 20-year-old college student — and recently asked to work overnight shifts so she could spend more time with them over their summer break, family members said.
The 48-year-old single mother moved about three weeks ago from her assignment in the police department's central booking to overnights in the Bronx's 46th Precinct, said one of Familia's sisters, Adriana Sanchez, 39, a medical technician who lives in West Milford, New Jersey.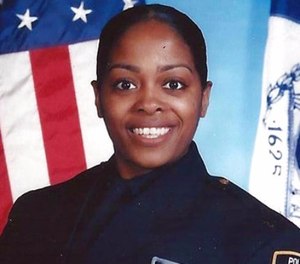 In a cruel twist, it was on an overnight shift at about 12:30 a.m. Wednesday, when police said gunman Alexander Bonds, 34, a Bronx resident, fired on her as she sat in a marked police vehicle with her partner. Bonds was fatally shot by police about a block away.
"They are numb," Sanchez said of her sister's children. "They were like 'Who's going to take care of us now?'"
Familia was a veteran cop devoted to policing said those who knew her. She lived in the Kingsbridge section of the Bronx. Her 86-year-old mother lives with the family and helped look after the children, friends and relatives said.
Described as a tough but friendly street cop, Familia wanted to make the city — her hometown — a safer place.
"She loved it," said Sanchez, one of 10 siblings — three sisters and seven brothers. "That's what her dream was, to become a police officer. She was very like a tough girl. She said she wanted to protect the city from all those crazies, and look what happened."
Family members described Familia as someone who was quick to laugh but serious about her job and well aware of the risks associated with police work. Familia had resisted suggestions from family to retire, relatives said, partly due out of a dedication to police work, but also because she had three children to support.
"That's the job. You have to live on the edge." Sanchez said. "She loved her job. She always wanted to be a police officer. She even told me, you should become a police officer and I said, 'No, I'll probably run away from a shooting.'"
Familia first joined the NYPD's training academy in 2002 but withdrew. She came back in July 2005, police said.
The 12-year NYPD veteran also had medical vocational training, including certification as a phlebotomist, police said.
Outside Familia's house in the Bronx Wednesday, Carlos Corporan, her brother-in-law, offered up a simple explantation to describe the family's devastation.
"She was loved," he said.
That was evident outside the 46th Precinct, where residents who knew Familia — and even those who didn't — including school children, stopped to pay their respects.
Before working in central booking, she had been in the 46th Precinct, and was known to residents.
Maria Santiago, 77, who has lived near the precinct since 1981, arrived with eyes puffy from crying. She said she had gotten to know Familia over the years during the officer's regular patrol of the area, and wanted to come to the police station to pay her respects.
"She was very sweet. She was very gentle," Santiago said with tears in her eyes as she recalled how Familia would greet her whenever their paths crossed.
Marie Espinal, 35, whose husband works at the 46th precinct, arrived at the police station with flowers in hand to honor a woman she described as a close friend.
"She was a good mother, a good worker, and she really cared about this community," Espinal said of Familia.
Asked why Familia wanted to be a cop, Espinal said: "She just wanted to be saving the world. Be there for her community. Do better."
———
©2017 Newsday
McClatchy-Tribune News Service