SRO takes down high school shooter, saves lives
The officer, who was not injured, was hailed a hero for his quick response protecting students and staff
---
Associated Press
DIXON, Ill. — A police officer at a northern Illinois high school was hailed as a hero Wednesday for shooting and arresting a former student who fired on him in a hallway while staff and seniors were meeting for a graduation rehearsal.
The 19-year-old former Dixon High School student suffered wounds that weren't life threatening, according to police, who didn't release his name. The school resource officer, Mark Dallas, took the gunman into custody after shooting him.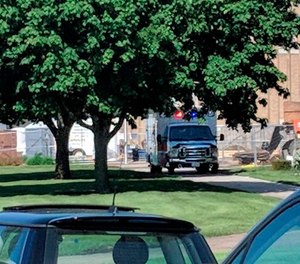 "He saved an enormous amount of lives," Lee County Sheriff John Simonton said. His comments were echoed by Illinois Gov. Bruce Rauner, who in a statement credited "Dallas for his bravery and quick action to immediately diffuse a dangerous situation."
The shooting happened shortly after 8 a.m. while staff and students were gathered for a graduation rehearsal.
Police Chief Steven Howell, Jr., told reporters that the officer called to report that he'd spotted an armed male at the school. He said the officer confronted the former student near the school's west gym and, as he ran after him, the suspect fired several shots at the officer.
Howell said the officer returned fire, shot the suspect and took him into custody. Neither the officer nor anyone else at the school was injured. Police said they believe the gunman acted alone and that there was no further threat to anyone in the area. Howell declined to discuss why the former student brought a gun to the school.
"I could not be more proud of the police officer and the way he responded to the situation. With shots ringing out through the hallways of the school, he charged towards the suspect and confronted him, head on," Howell said. "Because of his heroic actions, countless lives were saved. We are forever indebted to him for his service and his bravery."
When police searched the school they found that the faculty and students had barricaded themselves inside by blocking the classroom doorways with desks, chairs and other furniture — just as they had been trained to do.
"A lot of things went right today and many things could have gone wrong," Dixon Mayor Liandro Arellano Jr., told reporters at a news conference outside the school.
Officials said all schools in the city about 80 miles (130 kilometers) west of Chicago were placed on lockdown in the immediate aftermath of the shooting. The other schools re-opened after officials determined the gunman acted alone.