Suspect in deputy deaths arrested in Utah in '03
Police in Utah said they took a fingerprint from a man using the name Marcelo Marquez during a misdemeanor hit-and-run arrest in 2003
---
By Don Thompson and Lindsay Whitehurst
Associated Press
SACRAMENTO, Calif. — A man accused of killing two sheriff's deputies and wounding two other people in a bloody chase through Northern California was arrested nearly a decade ago in Utah, but authorities didn't connect him with his criminal past or previous deportations.
The man known as Marcelo Marquez and his wife were scheduled to make their first court appearances on Tuesday in a Sacramento County courtroom. Prosecutors in that county and neighboring Placer County were trying to sort out what charges to file after Friday's rampage and said they would announce the counts.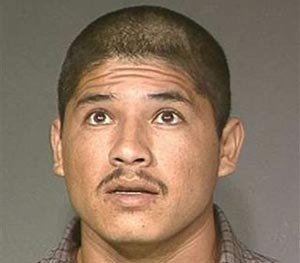 No attorneys were listed for either suspect in jail records.
Immigration authorities say the fingerprints have been matched to biometric records showing the suspect's real name is Luis Enrique Monroy-Bracamonte, and he had been living in the U.S. illegally after being convicted in Arizona for selling drugs in 1997 and deported to Mexico twice — the last time in 2001.
He appeared to be living quietly with his wife in a suburb of Salt Lake City until his arrest in California. Investigators were trying to determine how he avoided scrutiny.
Police in West Valley City, Utah, said they took a fingerprint from a man using the name Marcelo Marquez during a misdemeanor hit-and-run arrest in 2003. Court records show that he pleaded guilty, received a year of probation and was fined about $500.
However, Utah authorities never connected him to his real name or his previous criminal record.
In Utah, fingerprint data is entered into a biometric database for all people booked into jail. But for those who are cited and released, police take a print from a single finger that's kept in state criminal records.
Unless there's a request from an investigator, the print is not run against the biometric database to determine whether the person has a prior record outside Utah or is using an alias, said Alice Moffat, director of the Bureau of Criminal Identification.
"We get hundreds of those misdemeanor citations every day," she said.
Monroy-Bracamonte and his wife, Janelle Marquez Monroy, 38, were arrested Friday after being accused of leading authorities on a six-hour chase that began after Sacramento County Sheriff's Deputy Danny Oliver, 47, was shot in the forehead as he checked out a suspicious car in a motel parking lot.
Monroy's father said his daughter told him from jail that the couple was arguing loudly in the parked car when Oliver and his partner approached.
Monroy wanted to leave her husband "because of the madness he had and drugs," Mauro Marquez told The Sacramento Bee in Spanish from his Phoenix home.
Authorities allege that Monroy-Bracamonte shot the deputy and a short time later shot a driver in the face, wounding him, after he resisted a carjacking. Two Placer County deputies who approached the couple on a road were shot with an AR-15-type assault weapon, police said.
One of them, homicide Detective Michael David Davis Jr., 42, died at a hospital.
Sgt. Lisa Bowman, a Sacramento County sheriff's spokeswoman, said her department still has not been able to confirm information released by federal immigration officials that Marquez is really Monroy-Bracamonte.
"We understand Marquez has many aliases," Bowman said in an email, without confirming any alternate identities. "People do this every day with false birth records, false identifications, scams with Social Security numbers. It could have been a number of any of these but I cannot confirm at this time; it is part of this case investigation."
Investigators still have not been able to unearth a motive for the shootings or why the couple was in Sacramento, Bowman said.
Copyright 2014 The Associated Press