Vegas victim: Crime spree was 'total terror'
Police later shot and killed Cody David Winters and arrested his accomplice, Natasha Galenn Jackson, on suspicion of murder, attempted murder, burglary, kidnapping and other charges
---
By Michelle Rindels
Associated Press
LAS VEGAS — A woman who was stabbed with a screwdriver while she unsuccessfully fought to save her husband from a pair of home invaders described Tuesday's deadly crime spree in Las Vegas as "total terror."
Julie Ramos escaped the attack with bruises and stab wounds, but her 59-year-old husband, Richard Ramos, was shot dead when he was unable to wrest a gun away from the intruders.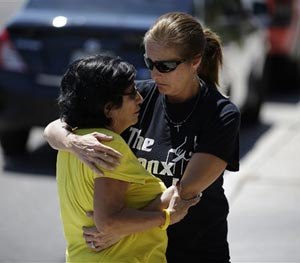 Police later shot and killed Cody David Winters, 27, and arrested his 35-year-old accomplice, Natasha Galenn Jackson, on suspicion of murder, attempted murder, burglary, kidnapping and other charges.
"I want everyone to know that Richard Ramos is the greatest guy in the world, and I don't want anyone to think he died in vain," Julie Ramos said at a news conference Wednesday. "He saved his family like the lion that he was."
Police said the crimes began at about 6:30 a.m. Tuesday, when Jackson and Winters — who's also known as "Havoc" — carjacked a freeway service vehicle that had stopped to help them on the side of the U.S. 95 freeway.
The driver of the roadside assistance vehicle thought the couple needed help. Instead, the duo pulled out a gun and knife and robbed the worker of personal items, including a cellphone, before forcing him to drive to a neighborhood about 3 miles east of the Las Vegas Strip, according to the police report. They let him leave, and he contacted police.
Meanwhile, Jackson told police she and Winters knocked on a door, asked the homeowner to use the phone and then pulled out a gun once they got inside. Jackson told police that she and Winters wanted to steal a car from the family.
Richard Ramos tried to grab the gun from Winters' hands, Jackson said, and Ramos' wife tried to help him in the struggle.
Jackson told police she stabbed Julie Ramos with a screwdriver and Winters got control of the gun, eventually shooting Richard Ramos, who died at a hospital.
Police said two of the Ramoses' children witnessed the attack.
The ordeal was "total terror, trauma, violation," Julie Ramos said. "I felt raped. I had to fight for my life. My husband fought for us to the bitter end. He was shot. He was stabbed. We saw it."
The invaders then scaled backyard walls and tried to break into two other homes. Police say Winters broke a window, entered another house and shot a woman there.
Police soon found the suspects and closed in on the area.
At one point in the standoff, Winters walked out of a house holding Jackson, pretending she was a hostage, according to police Capt. Matt McCarthy. But Jackson left his grasp and officers shot at Winters, who retreated into a house. Police arrested Jackson.
Officers said Winters came outside a second time, holding the woman who had been shot, McCarthy said. The woman fell to the ground, and officers shot Winters, who later died.
The woman shot in the second home was taken to the hospital in critical condition, McCarthy said.
Officer Larry Hadfield, a police spokesman, said the names of the officers involved in the shooting would be released in coming days.
Winters was convicted of driving under the influence in Idaho four times, and he's been in and out of prison several times since 2007. He also has battery and drug convictions, according to Idaho court records.
Ramos was a hard-working father of four who grew up in New York and worked as a salesman for a packaging company, according to his sister-in-law, Kim Johnston. The family has opened an account to accept donations for his survivors.
They also sounded a warning Wednesday.
"Please don't ever open your door for anybody," Julie Ramos said. "I sound so awful, but look what's happened. It happened to me."
Copyright 2014 The Associated Press