Wis. cop cleared in fatal OIS wants to return to force
City's police chief said he fears for the officer's safety
---
Associated Press
MADISON, Wis. — A Wisconsin police officer involved in a fatal shooting that's prompted protests and drawn intense public scrutiny wants to return to his job, according to his attorney, but the city's police chief said he fears for the officer's safety.
Dane County District Attorney Ismael Ozanne announced Tuesday that Madison Police Officer Matt Kenny won't face criminal charges in the March 6 shooting death of 19-year-old Tony Robinson.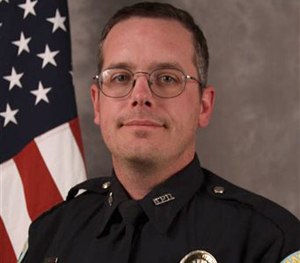 Kenny remains on paid leave, pending an internal investigation to see if he violated MPD policies during the incident. That review could still subject Kenny to department sanctions or firing. It has not been completed, officials said, but results are expected soon.
Kenny's attorney, Jim Palmer, told the Wisconsin State Journal that Kenny's desire to return is rooted in a dedication to service, pointing to the 12-year department veteran's prior time in the U.S. Coast Guard and as a lifeguard.
"At his core, he is someone who is extraordinarily dedicated to helping people," Palmer said. "He feels a very deep and genuine connection to this community, and he wants to get back to serving it."
But Police Chief Mike Koval told WKOW-TV he's looking at alternatives for Kenny returning to a patrol role.
"Clearly, he's certainly probably a household name or figure right now in our community," Koval said. "I worry about his safety. I worry about those officers who go to back him up. And of course I worry about the community perceptions about what's gone on here."
Kenny was also involved in a 2007 fatal shooting in which he was also cleared of any wrongdoing.
While Palmer said much of the public dialogue since the March 6 shooting has been constructive and peaceful, threats have been made against both Kenny and the Robinson family.
Last week, someone started a Facebook page encouraging people to report Kenny's location whenever they saw him, the State Journal reported. The page has since been taken down.
"So I think we have to create some time and some space and we have to look at some other alternatives above and beyond what he's going to have as a patrol officer," Koval told the TV station. "So we're going to take those in a very studied and calculated way before we introduce him back."
Copyright 2015 The Associated Press