Bring back armed officers to protect mail carriers, N.J. congressman says
Since Aug. 2020, the USPS armed police force of 750 officers, whose role is to protect employees, infrastructure, and customers, has been removed from street patrols
---
By Richard Cowen
nj.com
PATERSON, N.J. — For 50 years, the U.S. Postal Service has operated its own armed police force, one that is sworn, according to its charter, to protect "employees, infrastructure and customers" and to ensure public trust in the mail.
Numbering about 750 officers nationwide, the postal police historically has had two missions — as an in-house security force protecting U.S. Postal Service facilities, and on patrol to protect letter carriers, who are the easy targets of robbers.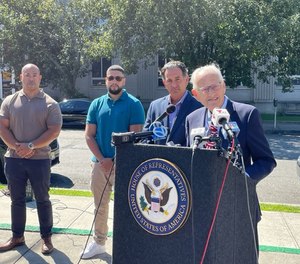 But since August 2020, the postal police officers have been off the streets. U.S. Postmaster General Louis DeJoy issued a directive that effectively ended street patrols — which, coincidentally or not, was followed by a dramatic increase in mail thefts and robberies of letter carriers, according to a U.S. Postal Service report.
On Thursday, U.S. Rep. Bill Pascrell Jr. stood in front of the Paterson Post Office to call on Congress to adopt the Postal Police Reform Act, a bill that would restore the power of postal police officers to patrol the streets.
"Americans are entitled to get their mail," Pascrell said at news conference flanked by three postal police officers, including the head of the union, Frank N. Albergo. "We must stop handcuffing postal law enforcement officers. Let's let police do what they do best."
Pascrell, a Democrat from Paterson, co-sponsored the bill (H.R. 3005) with Rep. Andrew Garbarino, a Republican from Long Island, New York. Pascrell said it makes no sense to keep postal police off the street when letter carriers are such easy prey.
"Mr. DeJoy stopped our officers from being able to conduct any patrol outside of the physical locations of the post offices," Pascrell said. "If that isn't madness, I don't know what is."
"It's no cost, and it's common sense," Albergo said of the legislation. "But some reason, the postal service doesn't want it."
According to the U.S. Postal Service report, there were 412 robberies of letter carriers nationwide in fiscal year 2022. In the first six months of this fiscal year, there were already 305 robberies. If the current rate continues, robberies will be up almost 50 percent in fiscal year 2023.
Thefts from mailboxes are also skyrocketing. There were 25,000 mail thefts reported in the first six months of this fiscal year, compared to 38,500 in all of fiscal year 2022. At the current rate, mailbox thefts will jump 30 percent by the end of the fiscal year.
"Every day, a letter carrier has a gun stuck in his face in America. That is not an exaggeration," said Albergo, who is the president of the Postal Police Officers Association. "Well, postal police aren't doing anything about it. We're protecting buildings. We're not protecting postal workers."
Albergo said a letter carrier was killed during a robbery in Milwaukee, and another was shot in Chicago. Postal police have always patrolled the streets, he said.
In response, the U.S. Postal Service acknowledged that postal police officers have been deployed on street patrols. But the U.S. Postal Service maintains that function is contrary to the federal statute, which states that postal police office may be deployed "in connection with property owned or occupied by the Postal Service, or under the charge and control of the Postal Service, and persons on that property, including duties in areas outside the property to the extent necessary to protect the property and persons on the property."
In May, DeJoy told a congressional subcommittee that he doesn't have the power to put postal police on patrol.
"I don't have the authority to patrol the streets. And they haven't done that in the past," he told the House Oversight and Accountability subcommittee.
Pascrell countered with statistics that showed that in 2016, postal police conducted 3,467 patrols in New Jersey, 624 of them in Paterson.
—
©2023 Advance Local Media LLC.
Visit nj.com.
Distributed by Tribune Content Agency, LLC.
McClatchy-Tribune News Service