'Extremely alarming': Sacramento-area police prepare against theft as Black Friday nears
Gov. Gavin Newsom said he would "substantially" increase money for cities to address organized retail theft in next year's budget
---
By Rosalio Ahumada and Hanh Truong
The Sacramento Bee
SACRAMENTO, Calif. — A string of recent smash-and-grab thefts at luxury stores in the Bay Area and Southern California has Sacramento-area law enforcement preparing for Black Friday and forming strategies to thwart similar brazen crimes on one of the busiest weekends of the holiday shopping season.
Officers, some of them undercover, will flood retail areas like the Roseville Galleria from Friday through the year's end amid the recent trend of organized retail crime. The Roseville Police Department and other agencies in the capital region are well aware of the brazen thefts that have played out over the past week.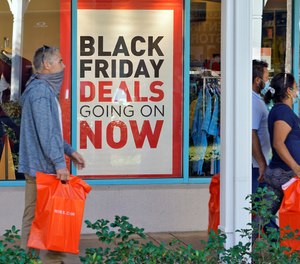 "It's extremely alarming," said Roseville police spokesman Rob Baquera. "The frequency of these crimes shows an alarming trend."
From Thanksgiving night through New Year's Day, Roseville police will increase patrols and special operations to protect shoppers and businesses; not only at the mall but also locally-owned retail businesses throughout the city, Baquera said.
Shoppers should expect to see more marked patrol vehicles as well as officers walking through parking lots looking for thieves trying to break into vehicles. They also will be maintaining a highly visible presence around stores, like the Galleria, looking for anyone trying to launch a smash-and-grab attack.
Baquera said there will be officers conducting undercover operations to catch thieves in the act. He said traffic officers typically assigned to spot drunken drivers over the holiday season will be made available to help thwart thieves trying to make a quick getaway.
"We have a pretty complex approach to send a clear message: We're watching and we're staffed-up to prevent anyone from committing these types of crimes in Roseville," Baquera said.
Police patrols at Arden Fair mall
Shoppers should expect to see increased police patrols at the Arden Fair mall, too, starting this weekend through the rest of the holiday season. Officer Karl Chan, a Sacramento Police Department spokesman, said his agency has taken note of the brazen heists in other metropolitan areas of the state.
"The department will have an increased presence at shopping centers in our city during the holiday season," Chan said in an email. " Arden Fair mall also contracts with the department for supplemental employment of officers, who are dedicated to the mall during the holiday season."
He said while security camera video can be helpful to detectives conducting follow-up investigations, but it's also important for theft victims to provide responding officers suspect information. He encouraged anyone who sees suspicious activity to contact police.
That's who tipped off Roseville officers to "five to ten individuals" seen running in and out of the Galleria on Monday night, Roseville police said. The "highly suspicious" incident spooked shoppers even though police said no items were stolen and no property was damaged.
"They were inside for a few seconds then ran back out the same door," police said. "The reports said the individuals were purposefully attempting to conceal their identities with masks and face coverings."
Sacramento police also work with "community ambassadors" who walk throughout high-traffic areas like Arden Fair to help mediate disturbances if they occur, Chan said.
It was during busy Black Friday shopping last year that brothers Dewayne James Jr., 19, and Sa'Quan Reed-James, 17, were killed in a shooting at Arden Fair. Video footage of the mall shooting reviewed by The Sacramento Bee showed members of two groups of young men, one member in each group armed with a handgun, who fired at each other as bystanders ran around 6 p.m. Damario Laron Beck was arrested and is facing murder charges in the mall shooting.
Targeted thefts last weekend
Dozens of stores, including Louis Vuitton, Burberry and Bloomingdale's, in San Francisco were targeted by a mob of thieves, some of them carrying crowbars and hammers, smashing glass cases and window displays. After stealing jewelry, sunglasses, suitcases and other merchandise, the suspects hopped into waiting cars and escaped.
It was a similar scene the following night at a Walnut Creek mall, where about 80 people raided a Nordstrom store, swarming through aisles in a flash-mob style and grabbing merchandise. Some store employees were assaulted, one with pepper spray.
In Hayward and San Jose, police said young people wearing hooded-sweatshirts and masks ransacked jewelry, sunglasses and clothing stores last weekend. Storefront windows were smashed with a sledgehammer at a Louis Vuitton and a Saks Fifth Avenue in Beverly Hills before police arrived to scare off thieves.
The thefts were carried out in a storm of chaos, but authorities said last weekend was a clear example of the growing trend in organized retail crime.
Rachel Michelin, the president and CEO for the California Retailer's Association, said she anticipates that malls in the region will be bulking up on private security as well.
"You have $40,000 stolen at a Lululemon in San Jose. You have stores completely gutted in Union Square," Michelin said. "This is a huge issue. It's a very serious issue."
She added that the retail association would be working with the Legislature and the Governor's Office to find solutions for this increase in theft.
CHP watching freeways near shopping centers
Gov. Gavin Newsom on Monday said he would "substantially" increase money for cities to address organized retail theft in next year's budget. This year, Newsom said the state already spent millions on the problem, including through a California Highway Patrol task force that works to partner state and local police to crack down on retail crimes.
The CHP Organized Retail Crime Task Force offered its help to local law enforcement agencies investigating the crimes. The CHP announced on Tuesday that it is now increasing patrols on freeway corridors adjacent to major shopping centers.
"The CHP remains steadfast in its efforts to help reduce organized retail theft," CHP Commissioner Amanda Ray said in a news release. "We are collaborating with local law enforcement and district attorneys to apprehend and prosecute the criminals involved in this nefarious activity."
Since the task force was created in 2019, it has participated in 773 investigations, made 240 arrests and helped recover more than $18.9 million in merchandise, the CHP said. The task force throughout the state provides logistical support and resources, including personnel and equipment.
The CHP said the task force shares information between law enforcement and California retailers, assigning CHP detectives to investigate these crimes.
The CHP offered these safety tips to shoppers who witness organized retail theft:
— Do not attempt to intervene.
— Note what the people involved look like.
— If possible, get a license plate and vehicle description.
— Be cautious; multiple suspects can be involved in these thefts.
— Report all suspicious activity to a store manager or police when it's safe.
— Submit pictures or video of the suspects or criminal activity to law enforcement, if you can do so safely.
Organized retail theft typically involves a criminal enterprise behind multiple theft rings at numerous retail stores, using a fencing operation to sell the stolen goods, according to the CHP.
In a survey published in December 2020, the National Retail Federation found that organized retail crime produced an average loss of over $700,000 per $1 billion in sales with three out of four retailers saying they've seen an increase in organized retail crime that year.
The CHP said retailers carry losses from theft on several levels and the cost is eventually passed on to customers through price inflation to offset the economic loss.
Witnesses can report organized retail theft incidents on an online form on the CHP website.
(c)2021 The Sacramento Bee (Sacramento, Calif.)
McClatchy-Tribune News Service