Live911: Reducing police response from minutes to seconds
For the Brookhaven Police Department in metro Atlanta, livestreaming emergency calls has led to quicker response times and more effective policing
---
By Katja Ridderbusch
Sgt. Delroy Stewart, a patrol supervisor at the Brookhaven Police Department in Georgia, has seen a lot of things in his 30-year law enforcement career. But what he witnessed on a night shift several months ago surprised even him.
An officer alerted colleagues to a burglary in progress near where they patrolled. Police cars were on the scene before the call was even dispatched, and officers took the man into custody.
"That was a really, really fast response," said Stewart, who worked for the MTA Police Department in New York before signing up with Brookhaven 10 years ago.
The officer who relayed the information was trying a new technology that allows listening to 911 emergency calls in real time.
When asked by his boss whether the department should continue testing the novel software called Live911, Stewart responded, "No. I think we should roll it out."
That was last October. The metro-Atlanta agency is the first in Georgia and one of approximately 100 departments in the country that currently use Live911, according to HigherGround, the California-based software company that developed the system. Other states where police are using the technology include California, Florida, Indiana, Illinois, New Jersey and Texas.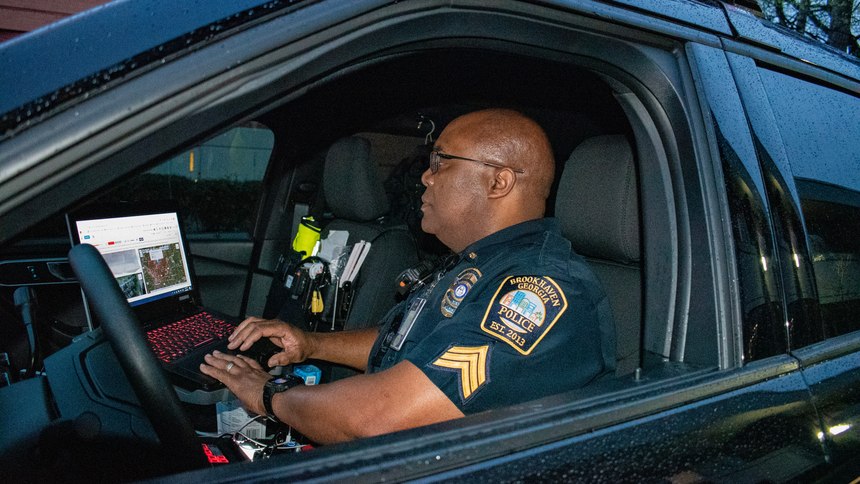 In recent years, the Brookhaven Police Department, with an authorized strength of 100 officers, has become a technology incubator for law enforcement. The department introduced an integrated license plate reader system, as well as a cutting-edge drone first responder program.
The drone program, as well as Live911, were initially launched by the Chula Vista Police Department, a 280-officer agency near San Diego. That's where Brookhaven Police Department Lieutenant Abrem Ayana learned about the Live911 technology.
"It's a game changer," he said, especially since the cost is relatively low – about $15,000 a year. "And the benefit is dramatic."
Live911 livestreams incoming emergency calls to officers in the field. It also pinpoints the caller's location on a map with the help of GPS technology. Once a 911 call comes in, officers can choose to play or mute the audio. They can preset the system, so it automatically plays incoming calls. They can also set the radius for livestreamed calls, whether it's the entire city or a quarter mile.
The main advantage of Live911 is quicker response times. It short-circuits what is often a three-step call-taking process – from caller to call-taker, from call-taker to dispatcher, and from dispatcher to officer. It reduces gaps in communication and time delays, sometimes taking several minutes out of the process.
Ayana, who also leads Brookhaven's CID, said Live911 has made a difference within the four months of his agency using the technology.
Examples include:
Multiple shootings where officers arrived on the scene sometimes in less than a minute, applying tourniquets and making an arrest;
A car theft in progress;
A teenager who slit her wrist in a domestic dispute.
The technology even came in handy when an officer on patrol heard a 911 medical call for a worker who fell off a roof. The officer provided first aid until EMS arrived.
With traditional radio and CAD communication, "when seconds matter, we're often minutes away," Ayana said. But with the new Live911 technology, "when seconds matter, we can be seconds away. We moved the needle to that point."
There are other advantages to livestreaming 911 calls. The city of Brookhaven has a large Hispanic population. Often, emergency calls need to be translated before being dispatched. That can lead to additional delays, and sometimes calls get messed up in translation.
Ayana cited an incident where translators gave the dispatcher a burglary in progress, but a Spanish-speaking officer who was listening clarified that the caller was a woman with mental health issues who complained about a roommate. In this case, Live911 served as a de-escalation tool.
Live911 also helps improve the relationship between police officers and dispatchers, Ayana said. Officers can hear dispatchers dealing with callers who are too upset, scared, or confused to give precise information, or callers who are just "loud, nasty and entitled." This understanding has led to "a different level of camaraderie," said Ayana, resulting in more effective communication among first responders.
One key benefit of Live911, cited by Brookhaven and other agencies, is that listening to the caller directly and in real-time gives officers more detail and higher situational awareness to develop a response plan.
Embedding officers in the situation before they arrive on the scene helps mitigate the constant "threat of the unknown," said Bill Lewinski, a behavioral scientist and Executive Director of the Force Science Institute, which conducts research surrounding human factors and the use of force. It may also help officers better perceive the dynamics of an incident, "the violence, the hostility, the complexity," he added.
Those dynamics could include gunshots in the background; people screaming; the urgency, panic or agony in the caller's voice, or a suppressed giggle that suggests a prank call.
But Lewinski is also concerned about cognitive and emotional overload when officers are driving lights and sirens to crime scenes. They may be looking at the laptop screen, listening to the 911 call as it unfolds while anticipating and strategizing at the same time. Extremely distracted, officers could injure or kill themselves or others in a traffic accident, he said.
Also, the Live911 technology "places officers directly into the crisis situation they are responding to," added Lewinski. While experienced and thoughtful officers may be more capable of putting what they hear into context, Lewinski said their younger peers could easily get overwhelmed by the raw audio, the often-frantic voices of people in distress.
The emotional tenor of a live, unfiltered call could "prime some officers toward an inappropriate response," Lewinski said – with a potentially dangerous outcome. 
Ayana said Brookhaven police had considered those concerns. "That's why we don't mandate that officers use the system," he said. Officers uncomfortable with Live911 or feeling particularly stressed at the time can turn the stream off or reduce the geofence.
Brookhaven also has a protocol for self-dispatching, according to patrol supervisor Stewart. "As police officers, if we hear a hot call, we want to go, go, go," he said with a dry smile. But it's important that officers let dispatch know when they are taking a call, mainly for safety reasons.
Live911 does not change the way officers respond to incidents, Ayana added. It "doesn't give them permission to be cowboys. It gives them a head start on an emergency response."
Brookhaven won't be the only agency in Georgia to embrace the new technology for long. Some of the neighboring municipalities have expressed interest. The Dunwoody Police Department, a metro Atlanta agency with 64 officers, recently decided to acquire Live911.
"It's a tool that has great potential because so much of what we do in law enforcement is about information gathering and dissemination," said Dunwoody police Maj. Oliver Fladrich, adding that livestreaming 911 calls can help officers' decision-making.
But he also has concerns. While raw 911 audio may emotionally overwhelm officers, he said it can also have the opposite effect, where the continuous feed of victim calls eventually desensitizes officers. Like Lewinski, Fladrich worries about distracted driving accidents, at least in the beginning. "We've seen it before when we incorporated laptops with computer-aided dispatch into police cars."
While Dunwoody police keep evaluating the risks and benefits, Fladrich said the department is looking forward to deploying the system and will rely on the experience that partner agencies like Brookhaven have gained.
Lewinski, of the Force Science Institute, predicts that Live911 will become widely popular among U.S. law enforcement. But he said there need to be more studies on how officers interface with the tool, and more training to address the unintentional consequences of using the technology.
As he was getting ready for another night shift in Brookhaven, Sgt. Delroy Stewart plugged the laptop into his patrol car and logged onto the Live911 system. Whatever other agencies may decide to do or not to do, "the technology works for us," he said.
Since the system's rollout in October, Brookhaven police have provided service to citizens faster, more effectively, and more safely, he added. "And, if you only take these three components into account, Live911 has been a success."
RELATED: Live-streaming 911 calls: An innovative approach to officer response
---
About the author
Katja Ridderbusch is an Atlanta-based journalist who reports about health care and law enforcement. Her work has appeared in "U.S. News & World Report," "Time," "Kaiser Health News," the "Atlanta Journal-Constitution" and NPR.