NC chief: 'Kill a cop' graffiti is a hate crime
A mural was defaced outside the new police station
---
By Police1 Staff
GARNER, N.C. — The Garner chief of police said the new anti-cop graffiti on their department headquarters must be interpreted as a threat to his officers, WRAL reported.
The phrase "kill a cop, save a child" was found sprayed on several buildings, including a mural on the Garner Police Department's new police station.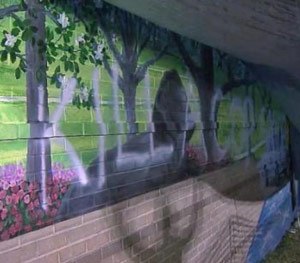 "It's absolutely a hate crime. It's targeting police officers," Chief Brandon Zuidema told WRAL. "This is an individual or individuals, cowards if you will, acting under the anonymity they have to share an awful and disgusting message."
The mural artist, Vincent Wood, discovered the vandalism over the piece he has been finishing on Oct. 16 as he arrived for work.
Zuidema told the publication that estimated repair expenses are at least $2,000 and almost 50 hours of additional work for Woods. The department has started a GoFundMe page to avoid using taxpayer money.
The new building has around-the-clock security and fences, but because it is not complete, surveillance cameras had not been installed yet.
The department  is offering a reward of $5,000 for information leading to arrest.