Portland PD begins 24/7 foot patrols at open-air fentanyl market
Mayor Ted Wheeler ordered the patrols in response to a large number of overdoses around the abandoned building
---
By Zane Sparling and Shane Dixon Kavanaugh
oregonlive.com
PORTLAND, Ore. — Portland Mayor Ted Wheeler has instituted round-the-clock police patrols near the Washington Center building in a bid to clear out the open-air fentanyl market that has besieged the vacant commercial center in recent weeks.
Cody Bowman, a spokesperson for the mayor, said Wheeler ordered 24/7 foot patrols near the building at 425 S.W. Washington St. "given the extreme situation in the area."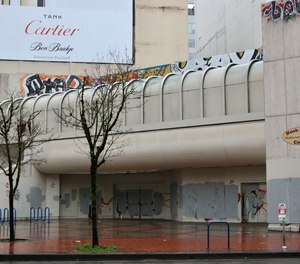 The Friday evening order came hours after The Oregonian/OregonLive's reporting on the alarming spate of overdoses occurring in the vicinity of the Washington Center, including several deaths. Willamette Week earlier reported on the building's descent into a drug den.
Since Feb. 1, police have arrested at least 18 people accused of being low-level drug dealers in the area, only to see charges dropped in half the cases and the rest released from custody without bail.
Before the order went into effect, dozens of people congregated along Washington Center's plazas and near the entrance to its shuttered parking garage, some openly smoking from tin-foil trays while others reeled about under the apparent effects of fentanyl, a deadly opioid.
On Monday afternoon, the order appeared to be having a moderate effect, with only a few people smoking from tin foil while sheltering from the rain. No police presence was immediately visible.
Barry Menashe, who purchased the three-quarter-block building in 2014 for $9 million, praised the mayor for clearing the area but said downtown's trouble ran too deep to be fixed by a few officers walking a beat.
"We're going to wait and see what happens," Menashe said in an interview Monday. "This has been going on for three years, and it's going to be a long, hard comeback road."
At a separate Monday afternoon press conference, Gov. Tina Kotek said she hoped to find funding at the state to expand access to Narcan, an overdose reversal drug, as well as for more behavioral health resources. Kotek also said she wants to expand the state police academy to speed up the recruitment of fresh officers.
"It's unacceptable to have that type of open-air activity in the middle of our city," the governor said. "It is a public safety response that the city needs to focus on."
©2023 Advance Local Media LLC.
Visit oregonlive.com.
Distributed by Tribune Content Agency, LLC.
McClatchy-Tribune News Service