Study blames 'ACLU effect' for spike in Chicago's violence in 2016
Chicago's 58 percent jump in homicides in 2016 has fueled fierce debate about its cause among law enforcement officials, politicians and academics
---
By Jeremy Gorner
Chicago Tribune
CHICAGO — A new study blames Chicago's sudden spike in gun violence in 2016 on the dramatic drop in street stops by Chicago police that year, but several crime experts quickly discounted its findings, particularly its conclusion that the Laquan McDonald scandal wasn't a factor.
Chicago's 58 percent jump in homicides in 2016 has fueled fierce debate about its cause among law enforcement officials, politicians and academics.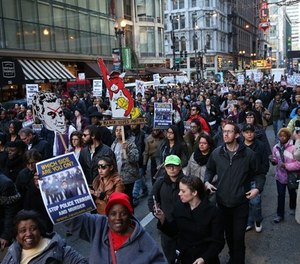 The study by two professors from the University of Utah cited the so-called ACLU effect as the most likely explanation for the sharp rise in violence to levels unseen in two decades.
Beginning in 2016, Chicago police officers had to more thoroughly document every street stop as part of a landmark agreement between the Police Department and the American Civil Liberties Union of Illinois to try to curb racial profiling and other unconstitutional practices. As a result, street stops plummeted, to about 100,000 for all of 2016, an 82 percent drop from about 600,000 in 2015, department records show.
Using what it called "empirical research tools," the 98-page paper, which has not yet been published, calculated that the far fewer street stops led to nearly 240 additional killings in 2016 alone.
But the ACLU and several crime experts who reviewed the study at the Chicago Tribune's request questioned its findings.
"They're more or less suggesting that working in an unconstitutional police department is worth the trade-off," said John Eterno, a criminal justice professor at Molloy College in Rockville Centre, N.Y., and a former captain with the City of New York Police Department. "If you're going to be doing 40,000 stops a month … you have to have reasonable suspicion on every one of those 40,000 stops."
Karen Sheley, an ACLU staff attorney who is overseeing the agreement with Chicago police, dismissed the study as "junk science."
"This particular viewpoint is both insulting to officers who follow the law on a regular basis and ignores the harm, including the public safety, to the communities who are most impacted by police work," she said.
The study's authors are law professor Paul Cassell, a former federal judge appointed by President George W. Bush, and economics professor Richard Fowles, who specializes in statistical analysis. The two also published a study last year arguing that the longstanding Miranda warnings for suspects in custody — that they have the right to remain silent — have "handcuffed" police officers across the country.
The two acknowledged the negative perception of police that street stops can leave with residents but called the longtime tactic "dramatically undervalued" and essential for the safety of Chicagoans from minority communities most affected by violence.
"As we researched the Chicago homicide spike, we were repeatedly struck by the fact that this obvious possible explanation was so often quickly swept under the rug, presumably by persons who have an ideological or other preconception that proactive law enforcement policies are not the solution for high crime rates," the study said. "But the costs of crime — and particularly gun crimes — are too significant to avoid considering every possible measure for reducing the toll."
In perhaps their most controversial conclusion, Cassell and Fowles ruled out as a factor in the heightened 2016 violence the court-ordered release of dashboard camera video of a white Chicago police officer shooting Laquan McDonald, a black teen, 16 times.
The video, released in November 2015, rocked the Police Department, prompting weeks of street protests, the firing of police Superintendent Garry McCarthy, first-degree murder charges against Officer Jason Van Dyke and a yearlong U.S. Department of Justice investigation that found officers had routinely violated the rights of minorities for decades.
But Cassell and Fowles argued that the McDonald shooting had gained attention months before and wasn't as timely a factor in the spike in violence in 2016 as the ACLU agreement going into effect at the beginning of that year.
"Awareness that Officer Van Dyke had done something terrible was widespread much earlier — such as in April 2015 when … Chicago's City Council voted to pay $5 million to McDonald's family," the study said. "Nor did the video's release constitute a unique revelation of possible racism by some Chicago police officers."
But critics faulted the report for ignoring the broad impact of the McDonald video while singling out only the ACLU agreement.
"To minimize the impact of that video is really a mistake," said Edwin Yohnka, the ACLU's longtime spokesman in Chicago.
Some crime experts felt that the fallout over the McDonald video caused officers, fearful of becoming the next viral video, to pull back on their aggressiveness, which emboldened criminals to take advantage of the vacuum.
Wesley Skogan, a Northwestern University professor who specializes in crime research, noted that studies of other cities have found that street stops have only a modest impact on crime.
"There's no question that there's a relationship between the extent of stop-and-frisk and crime," he said. "(But) this study claims to find a humongous effect."
The ACLU reached its agreement with Chicago police after considering a lawsuit when its own study found that officers made more than a quarter-million street stops between May and August 2014, four times more than New York cops did at the height of that city's controversial stop-and-frisk practices. African-Americans were stopped at a disproportionately higher rate than Hispanics and whites, especially in predominantly white neighborhoods, the study found.
After Chicago police agreed to changes that required officers to more thoroughly document their street stops, officers began filling out the more detailed forms at the start of 2016.
At the time, the Tribune reported that officers complained about how much longer the paperwork took to fill out, keeping them from their street duties. All the questions also increased their anxiety about being second-guessed on whom they stopped and whether the stops were legally justified. As a result, the number of street stops plummeted.
In their study, the Utah researchers analyzed about 20 variables — including arrest data, the impact of weather and possible national factors — but found the strongest link between the sharp drop in street stops and the sharp rise in homicides. According to their statistical estimate, the plummeting street stops resulted in nearly 240 additional homicides in 2016.
In a phone interview with the Tribune, Cassell conceded that a social science study can never offer as definitive a conclusion as a physical science study could.
"I can't tell you that we've shown (if) you take two hydrogens and an oxygen, you've got water," he said. "But we think to a reasonable degree of social science certainty, we've shown that there is an effect between the stop-and-frisk declines and the homicides on the streets of Chicago that spiked up in 2016."
Cassell said the McDonald shooting was not among the variables considered because there was no way to quantify its impact. He also disputed whether police backed off their aggressiveness in 2016, saying gun seizures remained level. However, overall arrests dropped sharply, by some 24 percent, department records show.
The experts who reviewed the study questioned its main conclusion — the strong link between street stops and homicides. In 2017, by comparison, street stops increased only slightly, yet homicides fell by more than 100.
"I'm very concerned about what they see from that one year and suddenly they make all these claims, which is just so wrong," said Eterno, the Molloy College professor. "You can't really make claims about any type of trend or anything that's going on based on the one-year change."
Others pointed to New York, where homicides remained low even when the number of stop-and-frisks fell sharply.
But the Utah researchers argued that comparisons with New York seemed "dubious," in part because of Chicago's far higher rate of gun crimes.
Their study called on Chicago police to do away with the detailed street stop report but to continue to issue a "receipt" that would contain only the officer's name and the reason for the stop. Currently, a state law requires officers to give these receipts to whomever they stopped.
The Utah researchers also think Chicago police should rely more on body cameras, saying they protect not only the public against police misconduct but also officers from false citizen complaints.
"We think it's vital that policymakers attempt to figure out what went on (in 2016)," Cassell told the Tribune. "If you just throw up your hands and say, 'Social science is never going to tell us for sure,' then people are going to continue dying on the streets."
©2018 Chicago Tribune
McClatchy-Tribune News Service