Video: Suspect points gun at bystander before fatal OIS
Officer Robb Phelps shot the gun-wielding man because he thought bystanders were in danger, he told another officer
---
By Jacob Factor
The Denver Post
WESTMINSTER, Colo. — The man a Westminster police officer shot and killed Oct. 1 during a struggle at an apartment complex pulled out a gun while the officer was tasing him and appeared to point it at another man, newly released officer body-worn camera footage shows.
Just before 8 p.m. Oct. 1, officers were called to the 1400 block of 116th Avenue about a man throwing things off a balcony and damaging cars in the parking lot, according to a news release from the Westminster Police Department.
When the first officer, identified in the news release as Officer Robb Phelps, arrived, three apartment residents had a man pinned to the ground, and a fourth resident told the officer the man was screaming and hitting walls, the footage shows.
The officer asked the man to lay down on his stomach with his hands out and began reaching for his Taser, then the footage shows the man reached into his pocket and grabbed a gun.
Phelps tased the man and yelled for him to drop the gun. One of the residents can also be seen appearing to try and wrestle the gun out of the man's hand.
The officer continued yelling commands at the man and asked the resident to move away from the man. The man appeared to point the gun at the resident during the struggle.
Phelps then fired one round that hit the man, and the resident got the gun out of the man's hand and threw it on the ground, the footage shows.
The man then fell over onto the ground, and a second officer who arrived later at the scene attempted life-saving measures on the man a couple of minutes later.
Phelps told another officer the resident trying to get the gun out of the man's hand "appeared in danger" when the officer fired his weapon, according to the footage.
According to the news release, the man was taken to the hospital where he died.
Phelps is on administrative leave and the incident is being investigated by the 17th Judicial Critical Incident Response Team, which will likely take several months, according to the police department. The Adams County coroner will release the man's identity.
Click below to see full body camera video.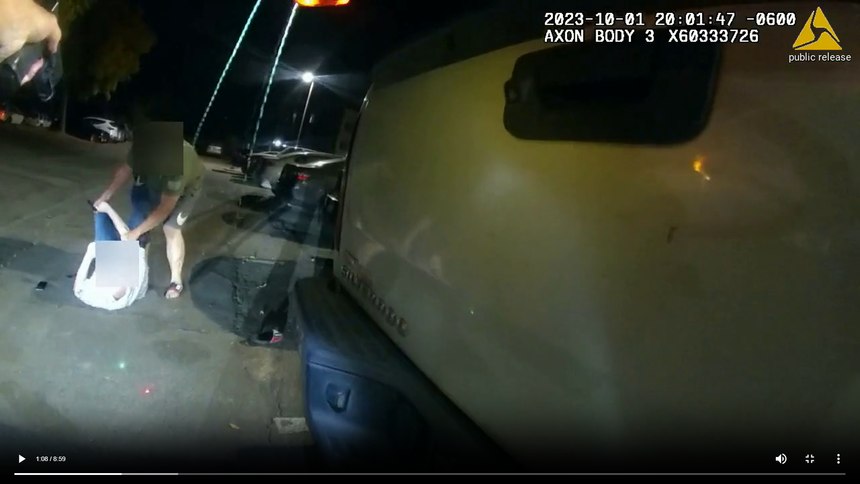 ©2023 MediaNews Group, Inc. Visit at denverpost.com.
Distributed by Tribune Content Agency, LLC.
McClatchy-Tribune News Service