2 Black leaders ask NYPD to restore anti-crime unit after more gun violence
NYPD's plainclothes anti-crime unit was disbanded in June amid calls for police reform
---
By Suzie Ziegler 
NEW YORK — After another weekend of gun violence — resulting in the death of a 1-year-old — two prominent members of the Black community have asked the New York Police Department to bring back its recently disbanded Anti-Crime Unit. 
The unit, made up of plainclothes cops tasked with getting guns off the streets, was disbanded in June, according to CBS New York. All 600 of its undercover cops were reassigned.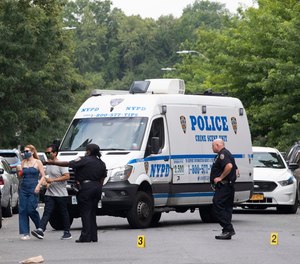 Now, Brooklyn Borough president and former cop Eric Adams says it's time to take another look. 
"I think that a total elimination is something we need to reevaluate," Adams told CBS2. "Right now, bad guys are saying, 'if you don't see a blue and white you can do whatever you want.'" 
Tony Herbert, a Black community activist, agrees. 
"The guns keep going off and now we have a 1-year-old and the blood is on the hands of the mayor and the state Legislature," Herbert told CBS2. 
Mayor Bill de Blasio condemned the shootings, citing the sheer number of guns on the streets as a primary hurdle. 
"This is not anything we can allow in our city," he said. "It's heartbreaking for so many reasons and begins with the fact that there are just so many guns out there and that is a New York tragedy."