After firing entire police force, NJ city adds new, unarmed officers
Dozens of unarmed, uniformed civilians will be trained to collect evidence, respond to radio calls for nonviolent crimes
---
By Darran Simon
The Philadelphia Inquirer
CAMDEN, N.J. — Next year, when a new county police force starts patrolling Camden, replacing an embattled city department, residents will see many new faces beyond the armed officers.
Dozens of unarmed, uniformed civilians—without arrest powers—will be trained to collect evidence at crime scenes, respond to radio calls for nonviolent crimes, and relieve officers so they can complete reports once a scene is safe. In some cases, a civilian police aide may be the only person in uniform that victims will encounter. A handful of aides will assist in domestic violence investigations.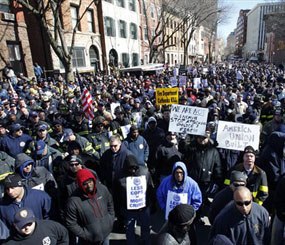 Some police aides will work out of the public eye and for the first time will monitor the city's matrix of 81 cameras throughout the city. Other civilians will be trained to work as crime analysts and intelligence analysts or to handle support and administrative functions.
The civilians' greater role in the new force will extend the reach of staff and free up officers to police streets, cutting costs, said Joe Cordero, a former East Orange police director and architect of the new force.
The approach, which other departments across the county have adopted, received a sound endorsement from a police expert who called it "forward thinking." Camden residents, though, offered mixed support and wondered about the extent of training.
"This agency is really at the forefront of the changing face of policing," said Cordero, a former director in the state Attorney General's Office specializing in gangs, guns, and violent crime.
Last week, the county began the process to hire 401 sworn officers, including superior officers. In addition, 69 civilian police aides and other civilians will be hired. About four crime-scene technicians and four crime and intelligence analysts will be hired, Cordero said.
Eventually, 100 to 115 civilians will be brought on. Cordero predicted the county would save about $6.4 million annually by hiring aides instead of the higher-compensated sworn officers.
Currently, the force employees about 45 civilians who work in administrative roles and dispatch.
Waterfront South resident Shaneka Boucher, a county force supporter, said she welcomed police aides' taking burglary reports - "as long as the report is going back to the station," she said.
In fact, the presence of unarmed police aides may quell angst some residents feel about the force, she said.
"The community has said time and time again, they are fearful that the county cops would not have experience dealing with minorities and that they would be trigger-happy," said Boucher, an executive assistant for a nonprofit and a graduate student at the University of Phoenix.
Some residents and police unions have opposed the force, saying it amounts to union-busting that won't keep the city safer. So far, suburban towns have balked at joining.
The county has said it will not hire more than 49 percent of the current city force, in order to avoid having to comply with the terms of the union contract, which expired four years ago.
The police union and county continue to negotiate.
John Williamson, president of the Camden Fraternal Order of Police, said he wasn't "necessarily opposed" to using more civilians, but he wanted city residents considered for those jobs.
"You can verbally lay out the perfect scenario of what you would like something to be, but until somebody reviews an action plan, it's only words and theories." he said.
A degree in criminology or experience in law enforcement, forensics, accounting, or analyzing financial crimes could serve as valuable strengths for some of the civilian positions, Cordero said.
County officials are particularly interested in those familiar with the city who are interested in a law enforcement career, he said.
"It's forward thinking, and it's simply good common sense," said Chuck Wexler, executive director of the Police Executive Research Forum, a nonprofit think tank in Washington. "There is something here to be said for putting the right people in the right places."
Camden's move follows a continuing national trend. Cash-strapped governments—many forced to lay off officers and freeze hiring—have turned to civilians, who are paid less.
In Camden, police aides, who will make up the bulk of civilian employees, will make around $39,000, compared with patrol officers, whose pay ranges from $47,177 to $87,409. Further, the civilians will not be eligible for the state's police and fire pension system.
County officials continue to negotiate with Gov. Christie's office to pay the force's projected $5 million to $6.5 million in start-up costs.
"While the governor continues to express his support for the countywide police force, no final determination has been made with respect to a state contribution," a governor's spokesman said Friday in an e-mail.
County officials said the new force would cost about the same as the present Camden department. The city budget for the 272-member force last fiscal year, which ended June 30, was nearly $60 million.
In Nashville, civilians now make up a third of the metropolitan department's 18 crime scene investigators, according to the department.
Some police forces, though, have long used civilians to perform traditional duties.
Philadelphia's roughly 6,500-member department has used civilians as crime scene investigators for at least two decades, spokesman Lt. Raymond Evers said. Civilians also work as crime analysts, but most of the 800 civilians perform administrative functions, he said.
In Camden County, the Gloucester Township police department hired one civilian crime scene investigator about two years ago. The investigator, a former township officer, allowed one of two detectives assigned to the unit to focus on other duties, Chief Harry Earle said.
"Obviously, there is a role for civilians in policing," said Earle, whose agency also hired a civilian crime analyst a few months ago. "But deciding what tasks they perform must be very carefully analyzed to determine if their level of skill, experience, training is appropriate, especially when dealing with citizens."
He added: "There are some aspects of policing where the specific skills and training of an officer plays a role."
Maki Haberfeld, a professor of police science at John Jay College of Criminal Justice, said using civilians to perform the duties of sworn officers is never a good idea.
For instance, analyzing crime statistics requires an understanding of operational and tactical aspects that civilians may not grasp, she said.
"Someone who is looking at a second or third career is not as invested as someone whose career depends on this," she said.
East Camden resident Constance Williams, 71, said she wanted to learn more about the training for the civilians before pledging support.
But Williams, a former Camden school board clerk and city recreation supervisor, said a police presence is more reassuring on 911 calls.
"They would know what to do, what to look for," she said
Copyright 2012 Philadelphia Newspapers, LLC