NYC mayor Adams says he'll defer to conflicts board on NYPD's hiring of brother
Eric Adams' desire for his brother to lead his mayoral security detail has sparked scrutiny from ethics experts
---
By Michael Gartland
New York Daily News
NEW YORK — Is he his brother's keeper, or what?
Days after New York City Mayor Eric Adams sparked a wave of criticism for naming his brother to a top NYPD job, the mayor said Thursday he would defer to the city's Conflicts of Interest Board on whether his sibling gets to keep the post.
Adams, who appeared at an afternoon press briefing in lower Manhattan, was asked if he'd in effect fire his brother if the board deems it the appropriate course of action — and he appeared to indicate he would.
"Whatever determination they make, I will follow COIB," he said. "When it comes down to my brother, I've said this over and over again: I trust my brother. He's qualified. He can do the job. He's the best person for the uniqueness of ... how I want my security to be."
[RELATED: NYC Mayor Eric Adams removes brother from NYPD leadership post]
Last week, Adams named his younger sibling Bernard Adams as a deputy New York Police Department commissioner — but switched gears this week when City Hall officials said Bernard would serve in a lower-ranking, but arguably equally sensitive role — as the head of the mayor's security detail.
Both jobs come with hefty salaries. The deputy commissioner post pays $240,000 a year, and the security director pays $210,000 annually.
The prospect of Bernard Adams occupying either post has raised alarm bells among good-government advocates and ethics experts who have likened such an appointment to a textbook definition of nepotism.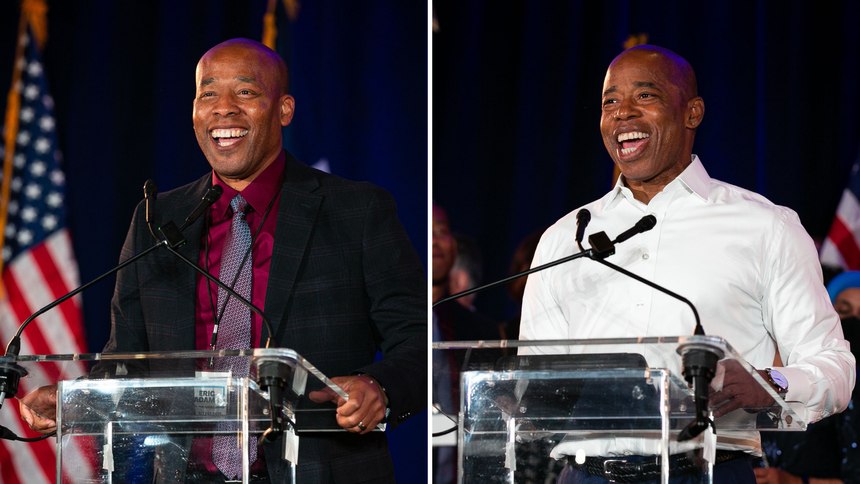 On Thursday, the mayor said his legal counsel Brendan McGuire has reviewed the situation and has "made it clear" to him that the administration is following Conflicts of Interest Board rules — even though the City Charter prohibits elected officials from providing any form of financial gain to relatives.
The conflicts board does allow elected officials to apply for a waiver to such prohibitions though, and according to administration officials, Adams has done that. The New York Daily News has made repeated requests to see the administration's application, but so far it has not received a response.
When asked if Adams might appeal COIB's decision if he doesn't agree with it, his spokesman Max Young declined to say.
When asked about the rules barring city politicians from hiring family members, Adams pointed to "others" who have hired immediate family members in the past — possibly a reference to his predecessor Mayor Bill de Blasio, who hired his wife to run ThriveNYC and Mayor Michael Bloomberg, who appointed his sister as the city's liaison to the United Nations.
Neither received a salary, though.
"C.O.I.B. will determine," Adams said, drawing out the initials of the acronym in what appeared to be a peevish response to a reporter pointing out the salary issue. "My opinion doesn't matter. It's C.O.I.B. — that's the opinion that matters. And so instead of us trying to say what we feel this way or that way, it is C.O.I.B. I think it's an amazing entity in our government."
Bernard Adams was at City Hall on Thursday and told the Daily News he was planning to walk with his brother to an early afternoon press conference, but ultimately he did not make the stroll.
Mayor Adams also fielded questions Thursday about whether another controversial hire to his administration, Deputy Mayor for Public Safety Phil Banks, fired a top cop who led an internal probe into Banks several years ago.
Banks, like brother Bernard, is poised to play an important role in the coming months for the mayor. But the mayor has taken heat over the hire because Banks, who once served as the NYPD's chief of department, faced probes that included allegations he might be linked to an illegal liquor distribution ring and that he earned money from rentals listed in the names of relatives.
Banks, who was also named as an unindicted co-conspirator in a separate bribery probe, retired in late 2014 — a day before the FBI sought a wiretap to listen in on his phone calls.
The NYPD's Internal Affairs Bureau aided in the federal probe, and at the time, IAB was led by NYPD Deputy Commissioner Joseph Reznick.
Last week, in what many critics viewed as a questionable move, Banks told Reznick he would be replaced. Adams said Thursday that his deputy mayor did not have the authority to terminate "anyone" and suggested the interaction between Banks and Reznick was "informal."
"I know he has a relationship with the chief of IAB. They both served for a long time," Adams said. "But the police commissioner makes that determination. Those informal conversations that he had with someone, I'm not privy to them."
[NEXT: Is nepotism hurting hiring at your agency?]
©2022 New York Daily News. Visit at nydailynews.com. Distributed by Tribune Content Agency, LLC.
McClatchy-Tribune News Service