Shaquille O'Neal sworn in as honorary deputy at La. sheriff's office
Shaq, who was an LSU star before playing for the NBA, has ties to the area
---
By Megan Wyatt
The Advocate, Baton Rouge, La.
ST. MARTIN PARISH, La. — Shaquille O'Neal dropped by the St. Martin Parish Sheriff's Office Wednesday while the boss was away and left as a sheriff's deputy.
The NBA legend, who is better known simply as Shaq, was sworn in as a reserve deputy while Sheriff Becket Breaux was attending an annual training, according to a Facebook post by the agency.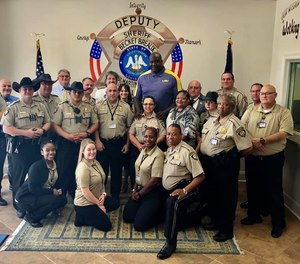 At 7-foot-1, Shaq towers over the rest of the law enforcement team.
"Thank you for your kindness, support, and encouragement you provided to the Deputies," the agency's Facebook post said. "It was very much appreciated.
"Welcome to the St. Martin Parish Sheriff's Office team!"
Shaq, who was an LSU star before playing for the NBA, has ties to Acadiana.
Earlier this year, Shaq pitched in to cover the funeral expenses of an 11-year-old Breaux Bridge boy killed in a car crash.
In 2018, he helped fund the construction of a new weight room at Lafayette High School.
Shaq also served as a reserve deputy for the Lafayette City Marshal's office until last year, when he and about 50 others were stripped of the designation.
The basketball legend has served in a number of honorary law enforcement positions beyond Louisiana in recent years, from Los Angeles to Miami Beach, according to local media reports.
NEXT: 10 celebrities who have donned the badge and uniform
(c)2020 The Advocate, Baton Rouge, La.
McClatchy-Tribune News Service