How public safety agencies can fund a drone program
Approaching the community, whether private citizens or local businesses, is beneficial to the sustainability of a drone program
---
By James Bushey
Starting a drone program is a significant undertaking and may be intimidating if you have no experience launching a new technological program. There are many considerations at every step of the journey, but one of the most fundamental steps is to acquire funding and support.
Agencies are often strapped for cash when it comes to routine purchases, so it can be difficult to get funding for a new technology without a proven track record.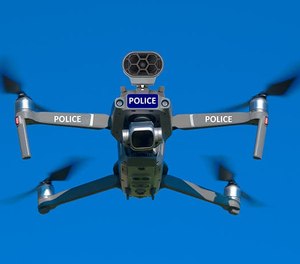 Over 60% of public safety agencies are operating on less than $10,000 per year, and about 23% are operating a drone program on less than $1,000. These budget constraints are a big reason why we see aircraft like the ANAFI or the Mavic Air getting a lot of use by public safety agencies. While they weren't originally designed for enterprise or agency use, they're reliable and less expensive than larger commercial-grade systems, making them more accessible. 
Here I'll walk through some ideas and strategies for building, launching and receiving support for a new public sector drone program.  
The importance of transparency 
Public sector agencies with experience successfully launching these programs have demonstrated that approaching the community, whether private citizens or local businesses, is beneficial to the sustainability of a drone program. It's necessary to help the public understand what the program will offer and what it will be used for – which can even lead to funding opportunities.  
Initially skeptical, the public may ask:  
Will they be weaponized?  
Will you spy on me? 
Will you violate my rights?  
When the Town of Linn started our drone program, we found a few articles detailing success stories. Other departments shared how they had used drones to find missing persons or a fugitive on the run. We made sure to explain what the purpose of the drone program was, and how this equipment would be used with integrity. This transparency built awareness for the program and showed citizens and local businesses that there was a real, tangible benefit to having such technology at hand, even in a small town and somewhat rural area.  
Donations
When the Town of Linn started our program, we wrote donation requests to the local community and received help toward the purchase of new equipment. These entities ranged from the VFW (Veterans of Foreign War) chapter to The Lions Club, local restaurants, Walmart and even individual residents who made personal donations.  
Additional funding 
As time progressed, and the department had success with the program, we continued to receive additional funding for equipment and training. 
We used to go into schools to talk to students about the use of technology in law enforcement. We took aerial pictures of the schools and gave them to the students as a gesture of goodwill. Word continued to spread, and so did the donations, as well as the direct funding from our local town board.
Another opportunity for drone program funding is through larger corporate stores such as Target, Walgreens, Walmart, Costco and others. Many of these corporations have a foundation for giving back to local communities.
Where you work can make a difference 
Some states allow drug forfeiture money to be adopted into a program that will be used to aid in drug prevention programs and equipment.  
Since drones are widely used for assisting in intel and location of drug interdiction efforts, talk to your local city government officials and court about approval to create or expand your program, and to use these funds for equipment.   
Grants
A number of grant opportunities are available to first responders, with some of these being ongoing programs. Although, in most cases, you may be limited to what airframe you can buy. Certain restrictions include stipulations from government grants that only allow for USA-made drones. If you intend to apply for those types of grants, make sure to check the Blue List for confirmation on authorized gear. Here is a select list of resources to help you find an opportunity that best suits your requirements: 
Police Grants Help: This resource allows police departments to search federal, state, foundation and corporate grants available to your community, along with tracking and submitting grant applications. 
The Office of Community Oriented Policing Services (COPS): The COPS office has invested over $14 billion in community policing since Congress established the office in 1994. 
First Responder Grants: Resource for helping public safety agency or first responder organizations locate, develop, apply and win supplemental grant funding from federal, state, local, private and corporate funding resources involved in homeland defense. 
FAA's funding opportunities: 
---

Download this Police1 drones/unmanned aircraft systems buying guide
This Police1 guide provides information on what law enforcement agencies need to consider when determining how to integrate this technology into their equipment cache.
---
Conclusion 
Reach out and let your community know what you're doing, and what they can come to expect. The more you have open dialog and show you are doing this for the right reasons, the more help you will receive with program acceptance and potential private donations. Trust me, you'll still have to deal with skeptics, but even they'll be quieted after you demonstrate the value of the program to the community.
---
About the author
James Bushey is chief of police for the Town of Linn (Wisconsin) Police Department and director of technical specialists at Adorama Business Solutions.