A world diminished: Remembering Deputy Ian Deutch
---
If anything could define how Nye County (Nev.) Deputy Sheriff Ian Deutch lived his life, it was a pair of smiles beaming out of a family photo. Ian's friend and partner, Deputy Eric Murphy, handed the picture to me as we reminisced at a bar alongside a back road in Nye County's largest town — Pahurmp, population 30,000. Eric was sharing snapshots of Ian's life and recalling stories. Several times he looked off into the distance, as if transported to a moment in the past. I heard stories about Ian's love of the outdoors, his passion for fitness and his dedication to family. Eric laughed as he remembered his partner's sense of humor, the way he used to draw "smiley faces" in the dust on the windows of Murphy's patrol car, teasing the department "clean freak," mercilessly. I felt I knew him, was at home with his hands-on style and earthy humor. You see, I never met Ian. He was gunned down in a gritty desert parking lot about 60 miles from his home town of Las Vegas, Nevada, by a man he never laid eyes on before the last few moments of his life.
The last few moments — when James Chaffin had jumped out of his car with an assault rifle and taken a man away from his wife, a loving father away from his children and a good cop away from all of us. The smiles I saw had been captured at an intimate moment, memorialized forever by the photographer's lens. I felt like an intruder, gazing at the look passing between Ian and his daughter, Savona. He cradled her against his chest as she looked up at him with total trust, her tiny arms encircling his neck. Their eyes were tender and their smiles radiant with the purest of all emotions, the love shared between a father and his child. Jonathan, his son, stood proudly next to him, a young, untested version of his determination and strength.
I never met Ian. Yet, I know the world is a lesser place because of his death. My sense of loss for never having raised a beer with him, or swapped patrol car stories, or sat beside him at roll call is personal. Like Eric Murphy, I would have been proud to call him "my partner," and that is the highest praise one cop can give another. Ian was killed in the line of duty on April 26, 2010, in the dusty little town of Pahrump, where he had served as a Deputy for six years.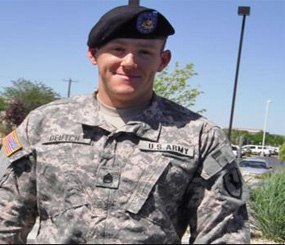 Though I must tell you of his death, I ask that you celebrate his life. Appreciating the manner in which Ian lived pays tribute to a man defined by heroism, honor and friendship. Friendship…were it not for that, perhaps, you would not be reading these pages. It was the bond of friendship, forged in blood and combat, that wove its way through time and brought Ian's story to me, here, at a dusty bar with a loyal friend sharing snapshots and memories.
Travel back in time to September 19, 2008. Graveyard shift for the deputies of the Nye County Sheriff's Department is like many other rural law enforcement outposts — long stretches of road patrol, handling a few domestics, and arresting the occasional DUI. For Deputies Ian Deutch and Eric Murphy, this night would bind their lives together, as none other. This night, gun smoke and pain would fuel a journey that would end, eerily, a few years later, in almost the exact spot where it began.
I was working as the graveyard watch commander for the Las Vegas Metropolitan Police Department, in the early morning hours of that fateful day. Graveyard Shift in Vegas keeps a couple of hundred cops running call-to-call, so you grab your coffee when you can. A waitress had just set a steaming mug in front of me, when I heard my call sign over the radio. The Dispatch Supervisor needed immediate contact. One quick sip and I pulled my cell phone from its perch on my gun-belt. Her somber voice told me this was no routine complaint.
"Lieutenant, Nye County just had an officer shot and they are airlifting him to the Trauma Center. They don't know if he's going to make it."
My heart hammered in my chest, as I threw money down on the table and strode to my patrol car. We have one of the finest trauma centers in the West. If that Deputy had any chance, the Docs at University Medical Center were his best bet. I hit the "red heads" and drove code three, as my mind filled with images of funerals, tears and heartbreak. They were the same images that haunt every cop who has lived through the death of another officer. I prayed, silently, that another dark memory would not be added to that sad litany. In minutes I walked through the trauma center doors, to find the medical staff standing by near the landing pad adjacent to the operating rooms. During the day, the hot August sun had baked into the cement of the landing area. As the air ambulance made its approach, the rotor wash blasted us from above, shifting air off the sizzling concrete and filling the night with hot wind.
I stood back as the Trauma team swarmed the helicopter and retrieved the injured officer. One glimpse of Deputy Eric Murphy and my heart sank. His blood soaked uniform had been cut away and his body was a mass of tubes, pressure bandages and gore. He was conscious and, as the medical personnel rushed him by, his eyes caught mine. His look was filled with pain, fraught with fear and silent pleading. He reached out as he passed. The team pushing the gurney saw and hesitated. I rushed to him, took his hand and, in silence, walked, his hand in mine into the harsh light of the hospital corridor.
Straining with effort, he talked through his pain. To reveal a man's thoughts when he believes death stalks him would betray a sacred trust, so our conversation will remain private. But, the words built a bridge between us, a bond of understanding and confidence. I gripped his hand until he entered surgery. For hours, doctors worked to repair the damage to his bullet-ridden body. Sometime during the operation, Nye Deputies started to arrive and the tragic story unfolded.
A man armed with an assault rifle had opened fire on residents of a mobile home park at "The Lakeside" casino. One of the first Deputies on the scene was Ian Deutch and his canine partner. A barrage of bullets from a ridge surrounding the park pinned down Ian and other arriving officers. As shots were exchanged, Eric Murphy parked and circled the shooter's position, tracking the gunman to where he crouched among dark boulders. During his approach, the suspect fired on Eric, hitting him several times. Eric returned fire and called out that he was hit. To save his partner, Deputy Deutch retrieved his own assault rifle and discharged a battery of bullets. The shooter was downed and Deputies ran to their fallen comrade.
Deputy Sheriff Eric Murphy survived his injuries, to face months of painful rehabilitation. Ian Deutch was by his side, everyday. The bond forged between the two men on that bloody night grew even stronger. Eric returned to duty with the Nye County Sheriff's Department, in time to see his best friend exchange his Deputy's uniform for that of a Staff Sergeant with the 221st Cavalry Squadron of the Army National Guard. He was deployed to Afghanistan in mid-2009.
When he learned of his unit's deployment, Ian told Eric he expected to die in Afghanistan. After putting his Will and finances in order, he married Vicky, the woman who had shared his life for many years. Ian had joined the National Guard when he was seventeen, along with his older brother Richard who would later follow Ian into service with the Nye County Sheriffs Dept. Together, they would be deployed to a forward combat area. During his nine-month deployment, Taliban forces continually attacked Ian's unit. According to Richard, also a Sergeant, Ian grew into a combat veteran who survived numerous small arms and mortar attacks, yet never lost his humanity. In fact, Ian felt such affection for Afghan children that he often shared rations and cookies with them.
To his surprise, Ian Deutch survived his deployment to Afghanistan. His love of police work was so deep that, within two days of his return, the young Deputy was standing in Sheriff Tony Demeo's office, asking for his old job back. He couldn't wait to start work, not only with the Sheriff's Department but with Chico, his canine colleague.
"I told him to take some time off…to de-compress," the Sheriff told me. "'There's no hurry,'" I said. But Ian insisted. He said he just wanted to get back to work!"
And, he did. On Deputy Ian Deutch's second day back on the job, he was riding with another Deputy as his friend and former partner Eric Murphy patrolled in another unit. They planned to get coffee together sometime during the shift.
They never got the chance.
James Chaffin was 31 years old. He worked menial jobs and had a minor arrest record. His obsession with his former girlfriend was overwhelming. He followed her, accosting her in both public and private, begging to be reunited. Her decision to move was based on good sense, as well as fear. She needed space to feel safe. He would do anything to get her back.
During the dark night hours of April 26th, James Chaffin determined that he was going to take her back by force. He loaded up his car with a pistol, an assault rifle and hundreds of rounds of ammunition. Driving to her home, he found his former flame and a friend loading belongings into her car. Enraged, Chaffin drew his pistol and pointed it at the women, yelling that he wouldn't let her leave him. As the women jumped in their car and fled, Chaffin opened fire, striking the vehicle but narrowly missing them. Terrified, they drove away with Chaffin in pursuit and called 911.
Nye County Sheriffs Dispatch received their panic-stricken phone call. While telling the officer that they were driving to the "Lakeside Casino" to foil Chaffin's pursuit, they accidentally gave the wrong description of Chaffin's vehicle. All units patrolling Pahrump rushed to the casino. The first unit to arrive was Deputy Ian Deutch and his partner. Spotting a car parked in front of the casino entrance, they pulled up, facing it. As the Deputies jumped out of their patrol car, they were gunned down before they drew their weapons. Chaffin had watched them enter the lot and opened fire with his assault rifle. He fired 10 rounds, striking Ian Deutch many times. Wearing body armor was useless against such high-powered rounds. Ian fell, mortally wounded. Seconds later, Deputy Tom Klenczar, who had pulled up behind Chaffin, opened fire, killing Chaffin, instantly.
The pungent smell of gun smoke still clouded the air, as Deputy Eric Murphy arrived. Heart thudding, he ran to his fallen friend and sank to his knees. The scene was surreal. He was kneeling yards away from where he had been shot, two years before. His partner and best friend lay dying, as he cradled his head in his arms. Ian looked up into Eric's stricken face. With his last words, he tried to comfort him.
"Don't worry bro," he said. "It'll be OK. Go get Vicky!"
Thousands of miles away, I stood alone on the Florida beach, while waves of warm Atlantic water lapped my feet. I stared out into the darkness, thinking about my own mortality. My police career had ended, suddenly, on a dirty Las Vegas sidewalk months before. For me, it wasn't a sniper's bullet, but a stroke that overcame my resolve. The Doctors were guarded in their prognosis. I relived that moment in memory, constantly. My life was forever changed. The mission to protect others that had given me purpose for decades was gone. I stood on the brink of a gulf that threatened to overwhelm me.
Suddenly, my cell phone rang. I answered it by instinct, even though it was the middle of the night.
"Lieutenant Sutton? It's Eric Murphy from Nye County Sheriffs."
I steeled myself. No good news comes with midnight phone calls. Eric's voice quivered with emotion as he apologized for bothering me.
"What is it Eric, what's wrong?" I asked.
The silence that followed seemed interminable, but I knew better than to press.
"It's Ian," he said. "My partner, Ian. He's been shot. I don't think he's going to make it."
I felt the chill breath of death. Voice soft with emotion, he told the story. I knew why he had called. Something special had passed between us on the night when, he, too, had faced the death. The silent reassurance of our clasped hands had transformed into a quiet comfort for the heart. I wished to grasp his hand once more, to give a strength that would guide him through this tragedy. But, I, too, was lost. Lost in a mire of self-pity, facing an uncertain future filled with confusion and doubt.
I did my best, but knew it wasn't enough. A few hours later, he called to confirm Ian's death. My tears were not just for Ian or Eric. I wept because of my own helplessness and human frailty.
Not long after Deputy Sheriff Ian Deutch was laid to rest, I walked with Eric Murphy outside "The Lakeside" casino. He talked about his friend's life. Blood from both of the Deputies that died that night had soaked into the thirsty desert landscape, penetrating the rocky soil with the essence of a warrior's honor. We stood, silent, gazing at a touching display of flowers, symbols and hand written memories that marked where Ian was shot. Suddenly, Eric chuckled. Startled, I turned to face him. In amazement, I stared as his chuckling gave way to open laughter, unable to keep from smiling myself.
I saw the tears in his eyes.
"I just remembered," he said, laughter fading. "After I left the Medical Center where I spent the worst night of my life, I put my gear away and walked out of the Sheriff's Office to my patrol car. I was exhausted. Hadn't slept for I don't know how many hours. It felt like someone had drained the life out of me. But as I walked toward my patrol car, I saw something on my windshield. Up close, I realized what it was. It was a "smiley face!"
He laughed again, ignoring the tears that streamed down his cheeks, and I laughed with him. We clasped hands in farewell, and I turned away with a lighter heart. Whether you live the story or tell the story, you change the world. In my mind, I started formulating Deputy Sheriff Ian Deutch's story.
My new mission had just begun.