Father recalls children's encounter with cop just before LODD
Officer Anthony Dia posed for a photo with two young boys after showing off his cruiser on Friday, about two hours before he was fatally shot
---
By Allison Dunn
The Blade, Toledo, Ohio
TOLEDO, Ohio. — Toledo Police Officer Anthony Dia posed for a photo with two young boys after showing off his cruiser on Friday, roughly two hours before he encountered a man who fatally shot him, police said. 
The positive encounter between Officer Dia and 5-year-old Ezekiel Tallman and 4-year-old Zayden Tallman was captured in a viral photo by their father, Timothy Tallman. The Tallman family stopped to meet the officer at about 10 p.m. Friday in the parking lot of Circle K in the 5300 block of Lewis Avenue.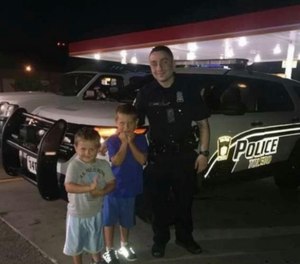 Mr. Tallman posted the photo to Facebook prior to the fatal shooting at Home Depot on Alexis Road, where Officer Dia responded to a report of an intoxicated man shortly after midnight in the parking lot.
Officer Dia approached the man, identified as Edward Henry, and that's when witnesses say they observed Henry turn and shoot the officer, police said.
Officer Dia died from his injuries.
Just hours before, he was smiling as he held his arm out around the two boys — who are close to the ages of Officer Dia's own sons. The Tallman boys had never met a police officer before, but the experience was memorable for both, Mr. Tallman said. 
"I met this man last night and talked to him. He had a big smile on his face, and he treated my boys like they were his own kids. He got in the cruiser and talked to them about what button does what," Mr. Tallman said. "It was just an awesome experience, and I have nothing but good things to say about him. I only knew him for 5 to 10 minutes." 
Mr. Tallman and his sons stopped at Circle K at about 10 p.m. Friday to purchase two bags of ice for the July 4 festivities. 
Officer Dia was checking out at the register in front of the family. But once the father paid for the ice, they exited the store and Mr. Tallman asked the officer if his two sons could meet him. 
"He walked over to the cruiser, put the boys inside the cruiser, let them play with the lights, and was talking to them for a little bit. It was a good time. He was very polite, a very awesome person," Mr. Tallman said. 
Other posts on social media also show Officer Dia positively interacting with young children in the community. In one post, he is shown sitting in his cruiser in the road with its flashing lights activated as children playfully run from the vehicle. 
"He definitely was one of the good ones," Chardonay Banks wrote on her post.
Mr. Tallman repeatedly thanked Officer Dia for an experience his sons won't forget, and for serving the community. Before they parted ways, Mr. Tallman told the other man to be safe.
On Saturday morning he woke up to the news that the same officer had been shot. 
Mr. Tallman broke down into tears.
"My heart's broken. It feels like he had a heart of gold. He did not deserve that," Mr. Tallman said. "A good thing like that just turned out so tragic."
©2020 The Blade (Toledo, Ohio)
McClatchy-Tribune News Service