Fla. LEO struck, killed by van while training for memorial bike ride
The LEO was training for a memorial ride to honor 9/11 victims when a van blew past a stop sign and hit him
---
Lisa Maria Garza
Orlando Sentinel
VOLUSIA COUNTY, Fla. — Volusia County Senior Deputy Frank Scofield was riding his bicycle Sunday morning, training for a memorial ride to honor 9/11 victims, when a van blew past a stop sign and hit him from behind.
The 58-year-old deputy from Port Orange was riding his bike north on County Road 415, near Pioneer Trail, when he was struck by 75-year-old Lake Helen resident Lajos Toth, according to the Florida Highway Patrol.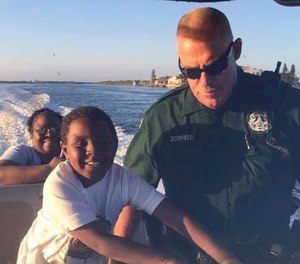 Scofield was taken to Halifax Health Medical Center, where he later died.
FHP is investigating the deadly crash and charges are pending against Toth, who was not injured in the collision, according to spokeswoman Lt. Kim Montes.
Sheriff Mike Chitwood told reporters at a press conference Sunday afternoon that Toth hit Scofield going 40 mph, causing a massive head injury that he never recovered from.
"The impact was so incredible that it broke his bike in two and ripped his seat post off," Chitwood said.
Scofield was wearing a helmet, according to Montes.
The Navy veteran began his career with the Sheriff's Office in 1995 and worked as a firearms instructor and member of the dive team and marine unit.
"When he shook your hand with those big hands of his, you knew he was your friend," Chitwood said. "On the flip side of it, if you were breaking the law, you would also know he's not the kind of guy you would want to come after you because he would come after you with everything that he had."
Scofield was training for the memorial bike ride in New York with a retired Daytona Beach Police officer when the accident happened, according to Chitwood.
"He died doing what he loved," Chitwood said. "He was passionate about doing the right thing and making a difference in this community – he was one of a kind."
———
©2019 The Orlando Sentinel (Orlando, Fla.)
McClatchy-Tribune News Service