Georgia cop covers Uber ride for stranded mother and son
The woman's car had broken down, leaving her and her son alone on the side of the road at 2 a.m.
---
By Suzie Ziegler
DULUTH, Ga.  — A Georgia police department is praising one of its officers for helping a family in need after their car broke down in the middle of the night.
Officer Addington was on duty around 2 a.m. Tuesday when he saw a woman and child walking down the side of the road, the Duluth Police Department wrote in a Facebook post. Because of the time of night, Addington stopped to ask if they were OK. He learned that the woman's car had broken down. She needed to get to her sister's house but her sister wasn't able to pick her up and she had no other way to get there.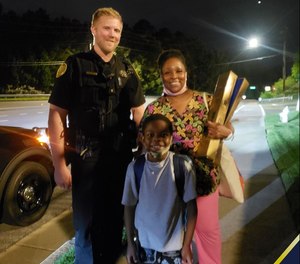 Addington decided to buy an Uber for them to make sure she and her son would arrive safely.
"Officer Addington had no hesitation on what course of action to take," DPD said on social media. "His concern for the well-being of the mother and child were the only thing that he cared about at that moment."