Hero cop among thousands returning for Boston Marathon
After the bombs went off on Boylston Street, Rhode Island State Trooper Roupen Bastajian ignored the cramps he'd incurred in the 26.2-mile run, and raced back to the finish line to help aid the victims
---
Rhode Island State Trooper Roupen Bastajian had not initially planned to be among the 23,000 people running the Boston Marathon on April 15, 2013. Bastajian had made the 26.2-mile trek before (he ran it in 2011), and decided to participate in the 117th race with four of his fellow troopers because "lucky 117" was also his badge number.
The Lebanon-born trooper — a military veteran who had joined Rhode Island State Police in 2009 — had anticipated seeing his wife and three children cheering him on along the sidelines, but a last-minute change in plans kept them all at home.
"My longest training run was with my Sergeant, John Beauregard, for a total of eight miles," said Bastajian. "I was not ready for the marathon. When I finished, I was completely cramped and had aches and pains everywhere.  I was looking for the [medic] tent to get a massage and loosen the muscles."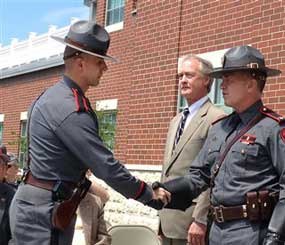 Bastajian was only 300 yards beyond the finish line at Boylston Street — his medal around his neck — retrieving a foil blanket when the first bomb went off.
Two of the other troopers had run far ahead during the race, and were nowhere near the finish line. The other two were far behind — they would never finish the race.
Like most of the runners and bystanders at that moment, Bastajian mistook the explosion for a ceremonial cannon.
Seconds later, the second bomb went off, and chaos devoured the street.
"As a cop, I have seen a lot of things. Growing up in Lebanon, I'd seen my fair share of warfare. But I'd never dealt with anything like this as an officer."
Bastajian forgot about his severe cramps and ran for the finish line as a plume of smoke rose over the street. He identified himself as an officer and began assisting as many victims as he could. He would spend the rest of the afternoon helping the wounded get to medic tents.
Back to Boylston
The trooper returned to Boylston Street six months after the attacks at the request of media outlets that were doing anniversary coverage of the incident.
"I had flashbacks," Bastajian recalled. "I could hear, see, and relive everything as if it was happening again, so I don't know what it will be like returning again."
Bastajian did the best he could to evade the media attention after the attacks, but his name made headlines again when he received the State Police's highest honor —the service ribbon — for his efforts after the race.
"I tried to deflect as much as I could when it first happened. I didn't do anything special. I did what any law enforcement officer or first responder does and is expected to do in a tough situation."
Bastajian plans to run the marathon again this year — the 2014 Boston Marathon will be held on Monday, April 21 — but the number of Rhode Island State Troopers joining him has doubled in size.
"They all want to go because of what happened last year, to show their support, because as Americans, we refuse to be terrorized. I support Boston Strong and that's why I'll run again."
Bastajian and his fellow troopers aren't the only ones beefing up their teams to show their support. The Boston Athletics Association that puts on the marathon each year has increased the field size to allow 9,000 more runners for the 2014 Boston Marathon.
"Our city, our state, our nation and our sport are uniting to show that we don't give in to such things and that we honor those who were most affected by it," BAA.org reads.
The increase in runners reflects a special group who were unable to complete the race last year, to honor those affected by the attacks, and to remember the victims: Krystle Campbell, Sean Collier, Lingzi Lu, and Martin Richard.