How GI Joe's funeral restored my faith in police-citizen relations
I have written about the public's waning appreciation, but on the day of Officer Gliniewicz' funeral, I felt very wrong
---
Our tactical response team got activated the night our brother was murdered. Our mission was to hunt for three cop killers lurking somewhere in Northern Illinois, possibly southern Wisconsin. Fox Lake (Ill.) is less than 20 miles from our border so we assembled and spent the night looking. 
It was a night of false leads, dead ends and panicked citizens. It was a night that would be yet another kick in the teeth for the boys and girls in blue. My God, how badly we wanted to catch those three. 
Fast forward a few days. We spent the Memorial Day holiday in our dress blues in a hot gymnasium waiting four hours to pay our respects to our fallen comrade. There were thousands of us — somber and sweating. Four separate auditoriums were needed to house us.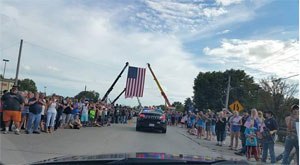 Officers from as far away as New York, Los Angeles, and Las Vegas came to honor Lieutenant Charles Joseph Gliniewicz. I always lose it during the bag pipes — that seems to be my cue for tears at every law enforcement funeral I attend. Those damn pipes get me every time, but this was different. I broke down during the procession. It wasn't the sea of blue that had me choked up; it was the sea of red, white, and blue. 
I've been in dozens of line-of-duty funeral processions but I had never seen anything like this. The 18-mile long procession route wound through several towns and I was awestruck to see thousands of people lining the streets. They were saying thank you with hands on their hearts and tears in their eyes. People lined the streets, holding signs that said "BLUE LIVES MATTER," "ALL LIVES MATTER," "THANK YOU FOR YOUR SERVICE," "WE LOVE YOU ALL," "GI JOE IS MY HERO," "ENOUGH IS ENOUGH," and "WE ARE ALL BLUE."
Town After Town After Town
After we drove through the first town, everyone in our car assumed that maybe Joe lived there and that was the reason for the abundant turnout. Not so. Town after town it happened. Masses waiting for hours in the intense heat to pay tribute. Everybody was wearing blue and mouthing the words "Thank you" as we slowly drove by. I even saw an outlaw biker standing next to his Harley holding his right hand up in a peace sign. 
Every tree, light pole and fence post for 18 miles had blue ribbons tied to it. Over every bridge there was a logjam of boats on the water below with people waving flags. Someone even had a barge on the water with a giant flag hanging from its crane. There was a half mile line of tow trucks on the side of the road with their yellow light bars on and people standing on the beds of the trucks with enormous flags and signs that read "WE SEE YOU" and "WE GOT YOUR BACK." Construction companies brought cranes to hold American flags over roads and underpasses. 
Every sign on every business and school had an honorific message for law enforcement and Lt. Joe. The local car dealerships had blue balloons on every car and all the salesmen stood in line clapping. Cub Scout troops, rotary clubs, businesses, moms, dads, elderly, young, teenagers —EVERYONE was out. One might easily conclude that these towns literally closed for the day and came to pay their respects. 
Officers in charge of traffic control didn't need to do much. The mammoth crowds shut everything down lining the streets 10 to 20 people deep for miles. It was like a massive Fourth of July parade, but everyone was crying.  
Message Received, Loud and Clear
In writing about the experience, it's hard to capture true authenticity of the moment. It simply defied description. To breathe it all in was emotionally overpowering and there wasn't a dry eye in our squad.
I recently wrote an article wherein I said that public opinion has waned for us. On the day of Officer Gliniewicz' funeral, I felt very wrong. 
It took an enormous tragedy in a wonderful town — the death of a remarkable man — for the silent majority to show its colors. This was not a "Blue Lives Matter" group, a bunch of officers' spouses, or people who just wanted to see the motorcade. 
These were everyday people who probably never thought about the police until they got a speeding ticket or until someone burglarized their house. This was a sea of everyday people who wanted to tell us how they felt by raising a blue flag of support. The last thing GI Joe did for us was bring these communities together as one voice and it has helped thousands of cops understand that they are appreciated. 
For over an hour and a half we were silent, in reverence, as we drove watching the people clap, cheer, shout, cry, and wave. 
Thank you Antioch, Fox Lake, Ingleside, Pistakee Highlands, Grant Township, and all the other towns we drove through for reinstalling our faith that our communities do appreciate us. Thank you for saying it, showing it, and living it. 
We see you, too.